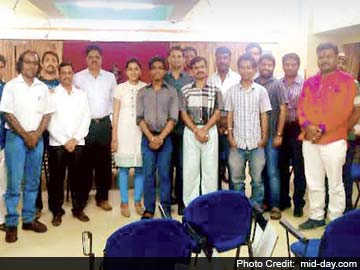 Pune:
With the morphed photos of Shivaji and Bal Thackeray leading to violence in Mumbai and Pune - and even the death of a techie earlier this month, a citizen group has decided to take matters into its own hands.
Pune-based social entrepreneur Ravindra Ghate (45) has set up a Facebook group, Social Peace Force, which plans to block 'offensive' posts against religious figures through innovative use of the social networking site's 'Report Spam' button.
"Facebook has a rule that if 1,600 people report a post as spam, they immediately remove it. So, if we come to know about a morphed photo or objectionable post, our committee will hold a meeting, link the post on our group and get 1,600 people to report it as spam.
Facebook will then remove the post in a few minutes," said Ghate, who has worked on several projects like computer literacy in villages, which he has won awards for. He was also the first to develop bulk-messaging software.
The group was created on June 13 and, in testimony to either how fed up people are with offensive posts or the allure of citizen policing, nearly 14,600 people had joined it as of last evening a barely three-day span. Ghate wants the figure to touch 100,000, so that at least 1,600 people are online at any given time.
The group also claims that it will not act on posts of a political nature but restrict itself to those that can hurt religious sentiments. " We will be focusing only on objectionable posts pertaining to religious issues and leaders," said Ghate.
Not Amused
Cyber security experts and several Twitter users have, however, pointed out to how quickly the group, and others like it, could take on Big Brother-like avatars and infringe on freedom of speech. "It is a subjective issue.
What standing does a collection of a few people have to decide whether a post is objectionable? Some issues can probably be dealt with like this, but what's to prevent one or a few men from setting up fake profiles and try to tackle posts that go against their agenda in this manner?" said IT expert Vijay Mukhi who helps cops in cyber-security related issues.
"It is necessary for such groups to have police intervention," he added. Cartoonist Aseem Trivedi who was arrested by the Mumbai Police in 2012 for allegedly mocking at the Indian Constitution through his cartoons against corruption, said, "This group is in clear violation of the freedom of speech.
Instead of stopping the people who create tension in society, people are more focused towards suppressing somebody's right of expression. It is totally unjustifiable." Well-known sociologist Nandini Sardesai dubbed it a case of moral policing. "It is like moral policing.
It has its benefits as well as disadvantages. The group might also land in trouble. They could face opposition on Facebook itself. They are doing this for their own publicity," she said. Ghate claimed that though his group will not act on behalf of cops, their aim is to help cops. "In cases that lead to communal tension, the cops take longer than we will to convince Facebook to remove objectionable posts."
Cycle of violence
May 30: Posts uploaded on Facebook and circulated on Whatsapp with morphed images of Shivaji and Bal Thackeray around May 30 had led to violence in Mumbai and Pune, which went on for four-five days. Techie Mohsin Sheikh was murdered in Hadapsar, Pune, allegedly by members of a right-wing Hindu organisation, in violence following the posts.
June 8: More than 30 buses were damaged in stone pelting after posts related to B R Ambedkar led to violence in Pune, less than a week after the first round of violence.
FB Speak
Confirming the spam policy, Facebook spokesperson Carson Dalton said, "Our policy is that if somebody has objections to any content, we remove it quickly." A cyber crime officer, however, said, "Facebook does remove spam posts on request, but it has its own team of experts who decide which posts will be removed. The site's officials do not depend only on such spam reports."