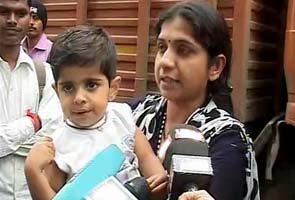 Pune:
For 26-year-old Smitha Joshi, the world suddenly came crashing down when her two-and-a-half-year-old son, Abeer, disappeared from a bus stand in Pune on Sunday. She thought that her son had been kidnapped. But just 24 hours later, there was relief and joy in the Joshi household - Abeer was back in his mother's arms after being miraculously rescued.
The tearful reunion followed a harrowing day and night of desperation and frantic search for Abeer. A native of Aurangabad, Smitha was boarding a bus home from the Shivajinagar bus stand in the city on that fateful Sunday afternoon. While she went inside the bus to place the luggage, little Abeer was standing outside. But when Smitha got down the bus, she found Abeer missing - all in a matter of minutes.
"I had just gone inside to keep my bag in the bus...Abeer was standing down...as I came back, he was not there," Smitha said.
A search for the boy began but in vain. The Joshis feared the worst - their son had been kidnapped.
A missing person's complaint was lodged at the Shivajinagar police station. In the meanwhile, Abeer's family and relatives continued their search, scouring all bus stands and the railway station in the city to look for him. After almost 24 hours, Abeer's uncle finally spotted a woman with a little boy near a bus stand in the city. He grew suspicious - the woman had covered her face with a cloth and was approaching the bus stand. As she came closer, he realised that it was Abeer who was with the unidentified woman.
"We are trying to find whether this woman is part of an organised gang but the very fact that she kept the boy with her for 24 hours without informing the police is suspicious...we will interrogate her," Smita Mehendale, Inspector, Shivajinagar Police Station said.
The woman will now be produced in court and the police hope that her interrogation may help them in unearthing what could possibly be a bigger racket.
For the Joshis, meanwhile, their joy knows no bounds. "I am very happy now...my son is back...I was so concerned what may have happened to him...he was not well," Abeer's mother said. But not everyone is as lucky. Every year, thousands of children go missing - while some get lost, others are kidnapped by gangs and syndicates and are later made to beg or become victims of trafficking.