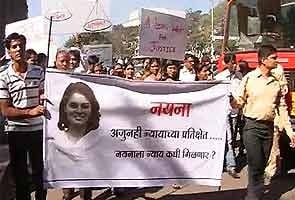 Pune:
A rally held in Pune today to demand justice for Nayana Pujari - an IT professional who was reportedly raped and murdered in the city almost four years ago - saw a large turnout. The rally began at Pune's historic Shaniwarwada area and wound its way to the Pune police commissioner's office, where participants demanded the arrest of the accused and fast-tracking of the case.
Joint Commissioner of Police Sanjiv Kumar Singhal said that senior officers have been tasked with supervising the investigations, and that a special team would be formed to track down the main accused, Yogesh Raut.
In 2009, 27-year-old Ms Pujari was allegedly raped and murdered by four men while she was on her way home from work. She was traveling in a car owned by her company.
The driver and a security guard assigned to escort her home were arrested, along with two friends. As the case was progressing in court, the main accused, Yogesh Raut, fled in September 2011. It was not too difficult for him to do so.
When brought to Pune's Sassoon Hospital for a medical check-up, the cab driver said he wanted to use the toilet. A constable assigned to guard him removed his handcuffs, and he was allowed to wander away unsupervised.
A departmental inquiry against the constable found that he had been negligent on duty. He has since been dismissed from service, and a criminal case has also been filed against him.
Ms Pujari's husband had asked for a fast-tracked trial for his wife's case, but his petition was rejected by the Maharashtra Home department.
Get Breaking news, live coverage, and Latest News from India and around the world on NDTV.com. Catch all the Live TV action on NDTV 24x7 and NDTV India. Like us on Facebook or follow us on Twitter and Instagram for latest news and live news updates.