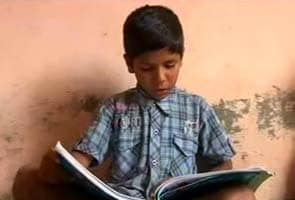 Pune:
In a slum in Pune, the dusty lanes lead to a small "chawl" in gali number 3 - housing tenements crowded close together. There are remnants of puddles of stagnant water, mosquitos swarming above them.
Past the local market, in a small, blue one- room home, a ten-year-old, wearing a short and a shirt sits on the floor completing homework.
He introduces himself in French. Then in English, Hindi and Marathi.
This is Rizwan Sheikh. And he knows exactly what he wants from life. "I want to be a scientist just like Abdul Kalam."
His father sells vegetables off a handcart, his mother works as a maid for two different families. Together, the couple earn about Rs 5000 a month.
Rizwan is the older of their two sons.
In May this year, as Rizwan's father, Janmohammed was returning after dropping his son to school in the NIBM road area, a speeding autorickshaw hit him from behind fracturing his leg. "He was on crutches till just 15 days back, so it was only my income of about Rs 3000 that we were running the house. The school has been kind enough to even take care of our house rent which is Rs 3500," explains Rizwan's mother Ruksar.
When he was five, Rizwan answered questions used in the civil services examination. His father, himself a topper in his school in a small village, recognised Rizwan's potential.
"I realised that this boy had something special. I would teach him tables and he would grasp so quickly. You ask him any table from one to 100 and he will answer. I then started getting general knowledge books for him and he learnt all the questions," Janmohaamed says proudly. "In fact, he had started reading books that many graduates would study for competitive examinations."
But his parents couldn't afford schooling for Rizwan. A report in a Pune local daily in 2007 praising his IQ attracted the attention of a local police officer who asked to meet the boy. He was impressed and introduced Rizwan to a German company which had a large office in Pune. The firm decided to sponsor Rizwan's education. And for five years, he attended and topped the city's prestigious RIMS International School.
The elite school wasn't a great fit to start with. But Rizwan was determined to make the most of its facilities and opportunities. "Initially, when I went to the school, some children would make fun. They would call me a beggar who brings vada pav for lunch. But now they have become my friends."
But the global economic slowdown has hit both his sponsor and Rizwan. The company said a month ago that it can no longer fund him.
His father, Mohammed, says collecting 1.5 lakhs - the school's annual fee - is impossible for him. The school has admitted Rizwan's younger brother Ayyan at a discounted fee. But it says it cannot have two children from the same family getting special assistance.
HOW YOU CAN HELP
If you would like to make a donation to help Rizwan, here are the details of his bank account:
Account number: 3017548042-6
Account holder's name: Master Rizwan Rajmahammed Shaikh
Bank name: State Bank of India
Branch: Dhankawdi, Pune (5413)
Disclaimer: This information has been provided / published on a good faith basis, without any commercial motive. NDTV does not vouch for the authenticity of the claims made by the intending done, nor can we guarantee that the donations made by a donor will be used for the purpose as stated by the intending done. You are requested to independently verify the contact information and other details before making a donation. NDTV and/or its employees will not be responsible for the same.