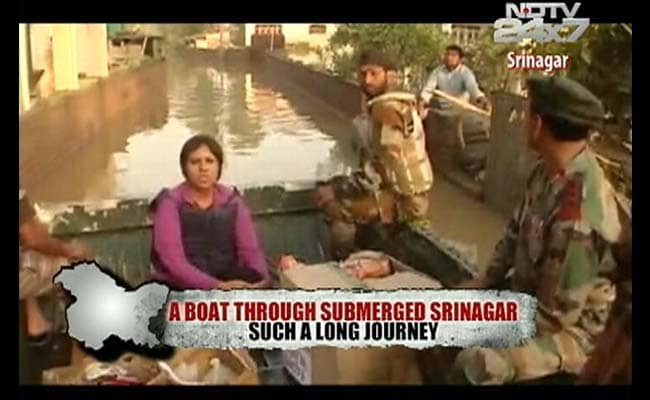 NDTV's The Buck Stops Here - Srinagar Floods Coverage has been announced as one of the 8 international nominees for the 2015 News & Current Affairs categories for its week-long ground reportage and broadcasts on the floods in Jammu and Kashmir. This is the first time that India is nominated in the News category.
Reported and presented by Barkha Dutt, who has covered Jammu and Kashmir for nearly two decades, this special series of The Buck Stops Here saw the show travel to Srinagar and bring ground reports and interviews from the scenes of the unfolding tragedy. The team reported from some of the most inaccessible areas that could only be reached by boat, wading through water and jumping over walls and debris to bring the stories of horror and heroism in the worst floods to hit Jammu and Kashmir. It showcased the sterling courage of local Kashmiri volunteers and highlighted the role of the Military in the relief and rescue operations in a state which has witnessed a two decade old insurgency in the Kashmir valley.
The 8 nominees from 7 countries and spanning 4 continents, Brazil, Canada, Germany, India, Malaysia, the Netherlands and the United Kingdom, will be presented medals at a ceremony on September 27 and winners will be announced in New York on September 28, at a ceremony to be held at the Lincoln Center.
The international winners will be recognized alongside their American news and documentary peers.
On being nominated, Prannoy Roy, Founder and Executive Co-chairperson, NDTV group said, "The nomination for news coverage by The Buck Stops Here team and Barkha at the 2015 INTERNATIONAL EMMY AWARDS is a matter of great pride for us at NDTV. Barkha is a wonderful journalist and we are honoured with the recognition given to her, her entire team and to NDTV."
"So very excited and honoured to be nominated for what is the world's most coveted television award. It makes it even more special that this is the first time India has been nominated in this category. Am very proud of my team at NDTV that made this nomination possible working in extremely difficult conditions in flood ravaged Kashmir", said Barkha Dutt, Consulting Editor, NDTV Group.
The International Academy of Television Arts & Sciences encompasses over 500 companies and key media figures from all sectors of television including Internet, Mobile and Technology. The Academy was founded in 1969 and chartered with a mission to recognize excellence in television programming produced outside of the United States.