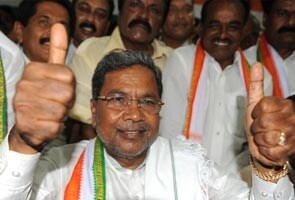 Bangalore:
K Siddaramaiah is not known to mince words or hide his ambitions. Whenever BJP members in the last government taunted him about being ambitious, Mr Siddaramaiah, then Leader of the Opposition, would aggressively and without hesitation declare that he would one day be Chief Minister of Karnataka.
Today, he was sworn in as the 22nd Chief Minister of the state.
Luck seems to have played its part too in Mr Siddaramaiah reaching his destination. The shock defeat of Karnataka Pradesh Congress Committee (KPCC) president G Parameshwara in the May 5 Assembly elections made things that much easier for him.
Influential among legislators, Mr Siddaramaiah, who has the distinction of presenting as many as seven state budgets as Finance Minister, pipped veteran Congress leader and Union Labour Minister M Mallikarjuna Kharge in a straight contest.
Mr Siddaramaiah was the frontrunner and the only thing that could have gone against him was the fact that he has not been a Congressman very long. An HD Deve Gowda protege, Mr Siddaramaiah narrowly lost the Chief Minister's job in 1996 after then CM, Mr Gowda, went on to become Prime Minister. Mr Siddaramaiah, who hails from the Kuruba community, a backward caste, was then edged out by JH Patel.
A product of the 'Janata Parivar', Mr Siddaramaiah was influenced by the Dr Ram Manohar Lohia brand of socialism. An advocate by profession, he bid adieu to his legal career and entered politics, making his debut in the Karnataka Assembly in 1983 after being elected from the Chamundeshwari constituency in Mysore on a Lok Dal party ticket. He later joined the ruling Janata Party, which merged with other parties to become the Janata Dal in 1988.
When the Janata Dal split into Janata Dal (United) and Janata Dal (Secular) in July 1999, he sided with the latter headed by Mr Deve Gowda and became president of the party's state unit.
Mr Siddaramaiah was sacked from the JD(S) in 2005, at a time when Mr Deve Gowda's son HD Kumaraswamy was the rising star in the party. JD(S) critics say he was thrown out of the party beacuse Mr Deve Gowda was keen to promote Mr Kumaraswamy as the party's leader.
Mr Siddaramaiah joined the Congress with his followers in 2006. In December 2007, he was elected in a by-election from Chamundeshwari constituency.
Born on August 12, 1948 at Siddaramanahundi, a village in Mysore district, Mr Siddaramaiah hails from a shepherd community. He graduated from Mysore University with a B.Sc. degree and later got his law degree from the same university.
Mr Siddaramaiah resides in the Kuvempunagar neighbourhood of Mysore city, where his supporters have been celebrating non-stop since counting day, when it became clear the Congress had won handsomely and Mr Siddaramaiah emerged as the top contender for the Chief Minister's post.