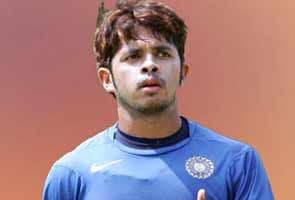 Shanthakumaran Sreesanth, Ankeet Chavan and Ajit Chandila shocked the Indian cricket fraternity with the latest spot-fixing scandal on May 16, 2013, during the ongoing Indian Premier League season. Arrest of the 30-year-old Sreesanth, is probably the most shocking given his international experience and the fact that he is a Test player. He has not figured in India whites or blues, though, since August 18, 2011 Test match against England.
Some to think of it, Sreesanth is more known for his - dancing skills, his antics on and off the field, his filmy connections, his girlfriends - rather than all a cricketer could have been known by. Many do say though that the man has the best seam position while bowling the outswinger at pace. Those skills though are on view less often than they should be.
Born to Shanthakumaran Nair and Savithri Devi in Kerala, he has a family full of musicians and artists. His brother Dipu Santhan is the proud owner of a music label in his hometown Kochi while sister Nivedita is a television actress. His brother-in-law, Madhu Balakrishnan, is a famous playback singer down South. Sreesanth himself has been a charm with his dancing and singing skills.

Career:
When he bowls the back-of-the-hand slower one now, one can see the roots from the days Sreesanth wanted to be a leg-spinner. Had his elder brother not intervened though, 27 Tests and 53 ODIs as a fast bowler for Team India would not have become a reality.
His first-class debut came around 10 years back in the Ranji Trophy against Goa. A hat-trick versus Himachal Pradesh in 2004 helped him gain a spot in the Challengers Trophy, domestic limited overs tournament, in 2005. A Man of the Series there led to call-up for India ODI squad for Sri Lanka bilateral on October 25, 2005.
Taking giant strides, success was not far away for the Kerala speedster now. A Test debut against England on March 1, 2006 and then the memorable Test against South Africa the same year - he took 5/40 in the first innings in Johannesburg as India dismissed the home side for 84 and went on to win the match by 123 runs.

All that not cricket:
In the same 2006 Test against South Africa, another of Sreesanth's facet came to light.He was fined 30% of his match fee after he pleaded guilty to breaching the ICC Code of Conduct on two counts during the first Test against South Africa at Johannesburg. While one of the count was logo related, the second one was more serious - not playing in the spirit of the game and running towards Hashim Amla after dismissing him.
Sticking to the same match, after a heated exchange with Andre Nel, Sreesanth thumped the ball for a huge six over long-off. His reply did not end here as he pranced around the wicket, twirling his bat and rejoicing, much to the dismay of Nel and his teammates.
The Pandora's box, quite literally, had opened!
In 2007 during Australia's tour of India, Sreesanth was once again in the middle of several controversies. He rubbed Australia's Andrew Symonds the wrong way on a couple of occasions during that tour. Apparently, during a game he wasn't playing, Sreesanth ran inside the ground with drinks the moment Symonds got out and sledged him on his way back to the pavilion.
During the inaugural IPL in 2008, Sreesanth was slapped by Harbhajan Singh at the end of the match between Kings XI and Mumbai Indians. That saw Bhajji being fined heavily and banned from the tournament. In 2013, Sreesanth got down to describe that incident in a Twitter rant saying that he was never slapped and that Bhajji was a 'back-stabber'. Later he deleted all those tweets too.
In 2009, it was Matthew Hayden's turn to experience the 'Sree-heat' in the IPL. A furious Sreesanth gave a mouthful to the Australian when he was heading for the dressing room. He went on to describe the Kings XI Punjab pacer as an over-rated bowler who "always loses cool under pressure."
Not just in an advertisement but on the field too, the Indian skipper MS Dhoni has had to explain why Sreesanth is 'too hot to handle' even for a man of his demeanour. After another 'Sree rant' in 2011, this time on Graeme Smith, Dhoni made amends at an ICC function and assured the South African captain that there won't be a repeat performance. However, even he endorsed Smith's view and said that Sreesanth is hard to control. Dhoni also held the Kerala speedster responsible for the team's slow over-rate.
The match goes on:

Despite the controversies, Sreesanth managed to add new figures to his records during India's tour of South Africa in 2011. On the second day of the third test, he registered his second five-wicket haul against South Africa and became the first Indian to take five wickets in an innings at Newlands, Cape Town. He went past Javagal Srinath's figures of 4 for 33 in January 1993.
Sreesanth also became the third Indian bowler to claim five wickets in an innings two or more times in South Africa, joining Javagal Srinath (three) and Venkatesh Prasad.
Most of 2012, he had been plagued by injuries and returned to full fitness only in the IPL 2013. Rahul Dravid was instrumental behind handling the character as well as the bowler.