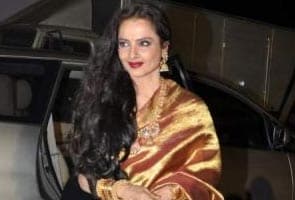 New Delhi:
For most of her working life, Rajya Sabha MP Rekha's image has been one of a glamorous yet mysterious femme fatale. But it wasn't always so. When she first started out as a lead actress, Rekha, now 58, was ridiculed for being dark, overweight, and ungroomed. Nothing if not persistent, the censure only served to feed Rekha's determination to make it big as a Bollywood sex symbol. In a stunning transformation, much like her plain Jane to va va voom role in 1988 movie
Khoon Bhari Maang
, Rekha reinvented herself with the makeover of the century. Gone were the extra kilos, the garish outfits and the untamed eyebrows. Now svelte and stunning, there was no looking back for her.
Bhanurekha Ganesan was born on October 10, 1954 in Chennai. She was the illegitimate daughter of Tamil star Gemini Ganesan and Telugu actress Pushpavalli. She was never acknowledged by Gemini Ganesan as his daughter, something that was to trouble her from childhood to her years in cinema. Later, she would ignore her father's attempts at reconciliation. Gemini Ganesan already had four daughters with his first wife, Alamelu. He had a second daughter with Pushpavalli, and another daughter and a son with second wife Savitri. So, Rekha has one sister, five half sisters and a half brother.
A 12 year old Rekha dropped out of school to supplement her mother's meager income as a child artiste. She appeared in Telugu film
Rangula Ratnam
in 1966 as Baby Bhanurekha. In 1969, she landed her first Hindi film,
Anjana Safar
, later claiming that she had been tricked into a kissing scene with actor Biswajit. The kiss was featured in Life magazine's Asian edition and the film itself would not be released till 1979, retitled
Do Shikaari
. Already slightly infamous for the kiss, Rekha then starred in
Saawan Bhadon
(1970), in what is considered her Bollywood debut. The hit movie instantly marked Rekha as an actress to watch. But despite striking box office gold so early, this was a difficult time for Rekha. Still a teenager, she struggled to learn Hindi and adapt to her new surroundings. She was also bewildered by the barrage of criticism about her "South Indian" appearance.
Rekha then appeared in a string of films, mostly all successful at various levels, but her roles were restricted to the purely glamour girl variety. It was then that Rekha began her lifelong commitment to yoga. She put herself on a strict diet, worked on her acting, acquired some fashion spit and polish, and practiced yoga regularly. As she changed physically, so did the film roles she was being offered. Her breakthrough movie was
Do Anjaane
(1976), notable not only for Rekha's powerful performance as an ambitious wife but also for being her first film with Amitabh Bachchan. From then on, many of Rekha's films have featured her in the pivotal role and required serious histrionics. She played a rape victim in
Ghar
(1978), a prostitute with a heart of gold in
Muqaddar Ka Sikandar
(1978), a courtesan in period piece
Umrao Jaan
(1981), and a betrayed, vengeful wife in
Khoon Bhari Maang
(1988). She won a slew of awards, including the National Award for Best Actress for
Umrao Jaan
.
In 1981, she also starred in
Silsila
, a movie that was a coup of sorts, mirroring the real life triangle between Rekha, Amitabh Bachchan and Jaya Bhaduri. In the film, she plays the other woman, the third party in the Amitabh-Jaya marriage - a role that she had long been rumoured to have assumed in real life as well.
Silsila
was to be her last film opposite Amitabh, and she has been effectively ejected from his life both professional and personal ever since. She is persona non grata with the elder Bachchans and never been greeted or spoken to in public by them. But Amitabh was not her only, or the first, screen romance that reportedly spilled over into real life. Rekha was rumoured to have secretly married actor Vinod Mehra, her co-star in
Ghar
, in 1973. She later denied the marriage in a television interview to host Simi Garewal.
There was no happy ending for her only legitimate relationship. In 1990, Rekha married businessman Mukesh Aggarwal. A year later, he hanged himself in the last of many suicide attempts and left a note that read "Don't blame anyone." Rekha has remained single ever since and has chosen to live a solitary life, shrouding herself in myth and mystery. She is fiercely private and has often been compared to Hollywood superstar-turned-hermit Greta Garbo. She remains active on screen, switching between glamorous appearances in
Zubeidaa
and
Parineeta
, and mother figures in the
Krissh
series.