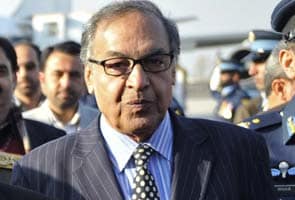 New Delhi:
Makhdoom Shahabuddin, age 65, has been selected at Pakistan's new Prime Minister by his party, the ruling Pakistan People's Party or PPP. Mr Shahabuddin was nominated by President Asif Ali Zardari this morning.
Mr Makhdoom will replace Yousuf Raza Gilani, who was disqualified by the Supreme Court earlier this week because he had been convicted of contempt of court. A three-judge bench headed by Chief Justice Iftikhar Chaudhry ruled that the post of premier had been vacant since April 26, when another seven-judge bench had convicted Mr Gilani of contempt for refusing to reopen graft cases in Switzerland against Mr Zardari.
Mr Shahabuddin, a Bhutto family loyalist, filed his nomination papers for the post of premier today, which is the birth anniversary of Benazir Bhutto, who was chairperson of the PPP and was assassinated in December, 2007.
Mr Shahabuddin has been accused of misusing his office as Health Minister in 2010, to allow a pharmaceuticals company to import 9000 kg of a drug named ephedrine. The order allegedly benefitted Mr Gilani's son, Ali Musa Gilani. Today, a magistrate of Pakistan's Anti-Narcotics Force issued a non-bailable warrant against Mr Shahabuddin in connection with a drug import case. Senior PPP leader Raja Pervez Ashraf, who has served as Power Minister, will be the party's alternative candidate in case Mr Shahabuddin's papers are rejected.
His father Makhdoom Hamiduddin Hakim Suhrawardi was among founding members of PPP and a close aide of former President Zulfiqar Ali Bhutto.
Mr Shahabuddin is a Member of the National Assembly of Pakistan from Rahim Yar Khan in the southern part of the country. He belongs to the Seraiki belt in the southern part of the Punjab province, and has held several portfolios in Mr Gilani's Cabinet since 2008. He was Federal Minister of Textiles till his promotion to PM.
During a revamp of Mr Gilani's Cabinet in February last year, Mr Shahabuddin was tipped to be sworn in as the Foreign Minister. However, the party changed its plans after Shah Mahmood Qureshi skipped the swearing-in ceremony on learning that he would not be reallocated the Foreign Ministry.
Mr Shahabuddin's family is the custodian of the mausoleum of the Sufi saint Shah Rukn-e-Alam in Multan, and is considered widely influential in southern Punjab.