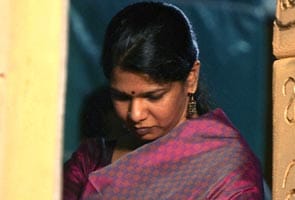 New Delhi:
Kanimozhi, the youngest child of DMK chief M Karunanidhi, walked out of Tihar Jail on Tuesday evening, more than six months after she went to prison in connection with the 2G scam.
Father and daughter, the two poets of the family, talked on the phone after Kanimozhi was granted bail. Father Karunanidhi said, "We exchanged happiness." The ailing 90-year-old has waited long months to do that. He has made difficult visits to Delhi, sometimes in anticipation of his daughter's release and gone back in disappointment. This time, he was in Chennai, when he heard the news he had been waiting for.
Till she went to jail, Kanimozhi was her party's urban and articulate Delhi face. A DMK Rajya Sabha MP, she is the one member of the Karunanidhi family that talks the language of the GenNext. She has also been called her father's literary heir.
She was elected to the Rajya Sabha in 2007, and serves on various Parliamentary committees. And lists her profession as politician, poet and journalist.
Kanimozhi, now 43, spent her growing years without seeing much of her father as he divided time between two homes and wives. Kanimozhi's mother, Rajathiammal, was Karunanidhi's third wife. His second, Dayaluammal, is the mother of sons MK Alagiri and MK Stalin.
The DMK MP has a Masters in Economics, was a journalist employed with several publications and also ran a website before she joined active politics. She is also a published poet and is seen as Karunanidhi's literary heir while her two half-brothers joust for top honours as his political heir.
Within the family, the two brothers are said to be wary of the little sister, for whom their father has a decided soft spot. He has gone out of his way to underscore that fondness and his solidarity with his daughter ever since she was named in the 2G scam.
Kanimozhi's political career has been in a shadow ever since the 2G scam broke. A Raja, who is now in jail for his alleged involvement in the scam, was known for his close relationship with Kanimozhi. She also owns 20 per cent stake in the Chennai channel Kalaignar TV that was allegedly the recipient of a Rs. 214-crore kickback from the massive spectrum scam. It is in this capacity that Kanimozhi was charged as a co-accused in the 2G scam.
Kanimozhi has been married twice. G Aravindan is her second husband and they have a son.