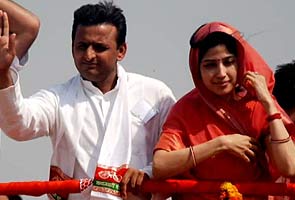 Lucknow:
35-year-old Dimple Yadav is married to Uttar Pradesh chief minister Akhilesh Yadav, who spearheaded the campaign to bring the Samajwadi Party back to power in the 2012 Assembly elections.
Mrs Yadav filed her nomination on June 5 for the Kannauj Lok Sabha by-election on June 24. The parliamentary constituency fell vacant after 39-year-old Akhilesh resigned from the Lok Sabha after becoming the youngest chief minister of Uttar Pradesh.
The daughter of an Army officer, Dimple grew up in Bhatinda, Pune, Lucknow, Andaman and Nicobar. Her friends say she is quick to adapt to new places, situations and environments.
While studying humanities at Lucknow University in late 1990s, Dimple met Akhilesh who had just returned from Australia after studying marine engineering.
Dimple and Akhilesh were married on November 24, 1999 in a grand ceremony at Lucknow attended by top politicians, film stars and celebrities like Amitabh Bachhan and Rajesh Khanna. The couple has three children -- 10-year-old daughter Aditi and six-year-old twins Arjun and Tina.
Akhilesh seems to wear his heart on his sleeve when it comes to his winsome wife. He is variously quoted to have declared his love for her and has even said that "
shaadi hote hi kismat khul gayi
(got lucky as soon as I got married)."
Dimple is a talented painter and voracious reader, according to those who know her well.
In 2009, her husband effortlessly won two Lok Sabha seats -- Kannauj and Firozabad. He chose to represent the former in Parliament, and she was handpicked to contest the by-election for the latter. Firozabad was said to be unhappy at being dumped by Akhilesh and the Congress muscled in, fielding ex-Samajwadi Party man and actor Raj Babbar against Dimple Yadav. The party then made a focused effort to ensure her defeat; even Rahul Gandhi had campaigned for Mr Babbar, who won.
Mrs Yadav's defeat was also seen as a sign of the diminishing political fortunes of Mulayam Singh and his Samajwadi Party. Over the next two years, Akhilesh introduced modern elements in party's campaigning style during 2012 Assembly elections and was able to provide it a new image by extensively campaigning across the state, holding cycle rallies and public meetings. The Samajwadi Party won 224 seats out of total 403, up from 97 seats in 2007 elections.