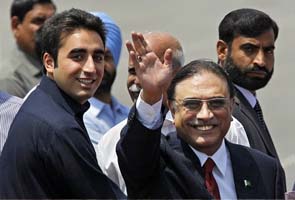 New Delhi:
He is 24 years old, a black belt in Taekwondo, Oxford-educated and the Chairman of the ruling Pakistan People's Party (PPP).
Bilawal Bhutto Zardari is to the manor born. The oldest child of Asif Ali Zardari and Benazir Bhutto was three months old when his mother first became Prime Minister. He has seen life in political exile; he was 19 years old when his mother was gruesomely assassinated.
Bilawal's appointment as a very young Chairman of the party was seen as a tactical move; to consolidate the party in the absence of Benazir using the Bhutto legacy. Mr Zardari also added Bhutto to his son's name.
Last year, when his father was out of Pakistan for some time following a "small stroke", much attention got focused on Bilawal, who returned to his country after graduating in history from Christ Church Oxford. Benazir was fondly grooming Bilawal as her successor and Bhutto family loyalists have been quoted as saying that Asif Ali Zardari has always seen himself as a transition leader till his son is ready to take over.
When Mr Zardari took ill then and left for Dubai, Bilawal held meetings with the top leadership of the party and youth activists of the PPP, the Associated Press had reported.
Interestingly, politically active as Bilawal's last few years have been, he is still too young to stand for Parliament. But his lineage suggests that it is inevitable once he comes of age. His grandfather, Zulfiqar Ali Bhutto, founded the PPP, became one of the country's most controversial leaders and, after being ousted, was hanged on the orders of the military dictator General Zia-ul-Haq. His mother Benazir was PM of Pakistan two times.
Bilawal has two sisters, Bakhtawar and Asifa.