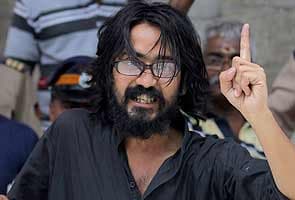 New Delhi:
Aseem Trivedi's Facebook page opens with a cartoon of Parliament building and an Oscar award next to it. The title asks the reader to imagine what India would be like in 2050 if things went on the way they are and the caption says "Oscar to Indian Parliament for 100 years of acting in real-life". The profile page of the 25-year-old is all about Anna Hazare and India Against Corruption. But that isn't his claim to fame.
Mr Trivedi shot into national prominence when charged with sedition and arrested by Mumbai police over the weekend, after a city lawyer filed a complaint against him in December 2011. He has been charged under the sedition law, for sending offensive messages under the Information Technology Act and under the law for Prevention of Insults to National Honour. The complainant took particular exception to Mr Trivedi's cartoon showing the national emblem with three wolves instead of lions and the words Bhrashtameva Jayate (only corruption triumphs) instead of Satyameve Jayate.
The arrest has set off nationwide protests and even though many, including IAC's prime mover, Arvind Kejriwal, thought that the cartoon might not have been appropriate, they said the state had over-reacted by arresting him. The cartoonist was eventually freed by the police, but he refused a lawyer as well bail, saying he wanted the charge of sedition to be dropped.
Trivedi is originally from Unnao district in Uttar Pradesh, where his parents still live. His father, Ashok Trivedi, has fully supported his son not asking for bail, pointing out the irony of the situation: Aseem's grandfather Reva Shankar Trivedi was a freedom fighter who went to jail during the Independence struggle.
Aseem showed ability in drawing and art since childhood. By the time he was 20, he had worked with several Kanpur-based newspapers as a cartoonist. He moved to Delhi in 2010, when he was just 22 and continued to work as a freelance cartoonist.
He became closely involved with the Anna Hazare-led campaign against corruption and displayed several of his cartoons during protests. His father claims that when Aseem came to Unnao to visit, he was received as a hero by locals.
To double the irony of the arrest drama, Trivedi was supposed to fly to Syria this month to collect an award for his cartoons. The award, given by the Cartoonists Rights Network International, is for Courage in Editorial Cartooning.