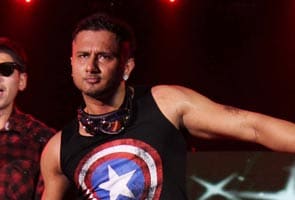 New Delhi:
In 2012, Punjabi rapper Honey Singh was a runaway hit. He had two of the ten most-popular Indian videos on YouTube. His songs like
Angreji Beat
in
Cocktail
and
Rani Tu Mein Raja
in
Son Of Sardaar
were disco poppers.
Till earlier this month, the vile and misogynistic lyrics of an early Honey Singh song in 2006 were not being discussed in the media. He was on lists of the most popular singers of 2012. In a story dated December 13, ndtv.com reported on his YouTube success, and like many others, we were not aware of this repulsive song. We apologize for this oversight.
Now, an online petition is demanding that a Gurgaon hotel cancel a New Year's Eve performance by the rapper. It cites the lyrics of a 2006 song which went viral on YouTube within days of being released.
On November 11, 2011 - a date that reads 11.11.11 - Honey Singh released his album International Villager, completing his transformation from folk singer to pop star. The album featured a number of hit songs. Gabru topped Asian music charts including iTunes and BBC.
Honey Singh was quickly snapped up by Bollywood, with a debut song in 2011 comedy
Shakal Pe Mat Ja
. In 2012, he sang for Ajay Devgn's
Son Of Sardaar
, Akshay Kumar's
Khiladi 786
and the Anurag Kashyap-produced
Luv Shuv Tey Chicken Khurana
. He has songs coming up in the movies
Race 2
and
Mastaan
, for which he has reportedly received the highest fee ever paid for a Bollywood song.
On December 12, 2012 - or 12.12.12 - Honey Singh's first solo single Satan was released and premiered on MTV India. The video, which features the rapper wielding a whip on hapless slaves, registered 2,60,000 hits on day one.
Back home in Punjab, Honey Singh received awards for Best Sound in 2006 for the song
Glassi
, Best Folk Pop in 2009 for
Rebirth
and an award for Best Music Director. He's also dabbled in acting, appearing in Punjabi films
Mirza - The Untold Story
and
Tu Mera 22 Mein Tera 22
.