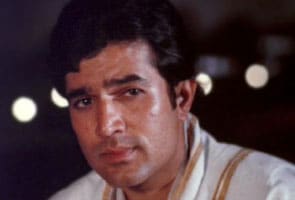 In the 100-year history of Bollywood, Rajesh Khanna, who died in Mumbai a year ago at 69, stands out as the first real superstar.
In an era when cinema was still governed by the rules of the big studios, Mr Khanna was a supernova, the first of his kind. Film lore says the mere sight of him caused women to faint, slash their wrists and send him letters written in blood. His predecessors Raj Kapoor and Dilip Kumar had broken hearts in their time, but the hysteria that followed in Rajesh Khanna's wake was entirely unprecedented. His hairstyle and distinctive kurta was imitated by a generation of young men. His sideways nod and very particular style of delivering his lines were likewise admired and adopted. But Rajesh Khanna was much more than the sum of his mannerisms.
Born in Amritsar in 1942, Rajesh Khanna, birth name Jatin and nicknamed Kaka, was adopted by relatives of his biological parents, who moved him to Girgaum, a suburb of Mumbai. He went to school and college with his great friend Ravi Kapoor, who was to become the actor Jeetendra. The young Rajesh dabbled in theatre, winning many inter college drama competitions. In 1965, he won the All India Talent Contest organised by Filmfare and United Producers, and debuted in Chetan Anand's
Aakhri Khat
the next year. Under contract with United Producers, he appeared in a string of films produced by the studio and each performance elevated him just that little bit more into national consciousness, until he was finally propelled to superstardom in
Aradhana
(1969).
Aradhana, which co-starred Sharmila Tagore, was remarkable in many ways. Rajesh Khanna's carefree charm in the song
Mere Sapnon Ki Rani
made him irresistible to audiences, as did the simmering
Roop Tera Mastana
. He pulled off a double role with aplomb, and proved equally adept at playing the romantic hero as well as the tragic. It was also the beginning of two long and successful partnerships - with heroine Sharmila Tagore, and with singer Kishore Kumar.
Hit after hit followed, among them the cult
Haathi Mere Saathi, Khamoshi, Kati Patang, Anand
and
Amar Prem
. He won three Filmfare awards as well as the Lifetime Achievement, among other honours.
Despite his heartthrob status, Rajesh Khanna played a variety of roles - the terminally ill Anand, a canny chef in Bawarchi, a lonely husband in
Amar Prem
, and a psychiatric patient in Khamoshi. He was one half of several smash hit screen jodis, with actresses Sharmila Tagore, Mumtaz, Tina Munim, Asha Parekh and Hema Malini. He had the most memorable dialogues, the superhit songs and the biggest films of his time, dominating the Seventies in every way.
By this time, Rajesh Khanna fans lined roads as he drove by and kissed his car as it passed. Mumtaz remembers an occasion when they arrived in Chennai at midnight, to find the hotel mobbed by some 600 odd women. According to Sharmila Tagore, female fans "married" photographs of Mr Khanna and he required police protection in public. A famous scene from
Amar Prem
, set against the Howrah Bridge in Kolkata, could not actually be shot on location because authorities feared the bridge itself would collapse under the weight of the gathered fans. Possibly, not even Amitabh Bachchan mania or Shah Rukh Khan fever have matched the fan frenzy that surrounded Rajesh Khanna in his prime.
Rajesh Khanna's fall from cinematic grace, when it came, was almost as meteoric as his rise to fame. One moment he was playing to packed houses, the next moment he was starring in B grade films with names like
Wafaa
and
Goraa
. Rishi Kapoor replaced him as the new loverboy, and action movies dislodged romance and drama as box office catnip. Rajesh Khanna was well past 40 when his star began to wane. He had spent over 20 years at the top of the filmy food chain.
By the late 80s, he was a dim star in the Bollywood constellation, and by the nineties he had burnt out altogether. But if his filmy fortunes were slipping, his personal charisma was unchanged. He marshalled his forces in the direction of politics, holding a Lok Sabha seat as a Congressman from 1992 to 1996.
Mr Khanna continued to feature as the father of the hero or heroine in an odd movie here and there till very recently, and also appeared in some television serials.
Off screen, Rajesh Khanna's private life was distinctly bohemian. Early in his career, he conducted a seven-year-long live in relationship with actress Anju Mahendru. At the height of his fame, in 1973, he married 16- year-old Dimple Kapadia who had only just made a searing bikini-clad debut in teen romance Bobby. He was almost 16 years older than her when they married. 11 years and two daughters later, they separated in 1984. They never formally divorced. There were also rumoured affairs with co-stars Mumtaz and Tina Munim. Mr Khanna and ex-wife Dimple often made public appearances with the family - daughters Twinkle and Rinke, and sons-in-law Akshay Kumar and Sameer Saran.
Mr Khanna posthumously received the Padma Bhushan, India's third-highest civilian award, in April this year.