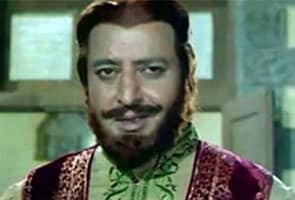 New Delhi:
Pran Kishan Sikand, perhaps the only Bollywood actor to have shattered stereotype by playing villains and good guys with equal ease and success, was famous for his style and sophistication. In a career that spanned six decades, Pran appeared in 350 films which included pretty much every blockbuster film that released in the 1960s and '70s. He was voted Villain of the Millenium and also made it to CNN's list of top 25 Asian actors of all time. In May 2013, he received the Dadasaheb Phalke Award which honours a member of the film fraternity every year.
Born in 1920 in old Delhi's Ballimaran area, Pran's father was a civil engineer who's job took the family from Delhi to Dehradun and Meerut. A photography enthusiast, the young Pran took a job as an apprentice with a photo studio in Delhi after finishing school. But he was not destined to remain behind the camera. A chance encounter with the writer Mohammed Walli in Lahore's famous Hira Mandi market led to an introduction to produvcer Dalsukh Pancholi who cast Pran as the villain in 1940 Punjabi film
Yamla Jat
. He went on to star as the hero in 1944's
Khandaan
.
After Partition, Pran, now married and with one son, moved to Mumbai intending to continue his celluloid dream. Unemployed and in dire financial straits, Pran had all but given up hope of reviving his career till the write Saadat Ali Manto intervened and helped him get a role in
Ziddi
(1948), starring Dev Anand and Kamini Kaushal. The film proved a turning point and Pran's fortunes rose accordingly.
Pran played the villain opposite the era's superstars - Dilip Kumar, Raj Kapoor and Dev Anand - in films such as
Munimji, Devdas, Madhumati, Ram Aur Shyam
and
Jis Desh Mein Ganga Behti Hai
. His portrayal of Gajendra, the tyrannical brother-in-law in
Ram Aur Shyam
, helped make the villain's role as important as that of the hero's. Famous for his trademark sneer, Pran was often paid more than the lead actors of his films at the peak of his career. From 1969 to 1982, he was Bollywood's best paid supporting actor.
One of the rare actors to have played against type, Pran appeared in a positive role in 1967's hit film
Upkar
, co-starring Manoj Kumar. From then on, he was cast in roles on both sides of cinema's good and evil divide. With Amitabh Bachchan, Pran formed a hit partnership that resulted in 14 films, most of them hits including
Don, Amar Akbar Anthony
and
Kaalia
. Pran was, in fact, instrumental in having director Prakash Mehra cast the struggling Amitabh Bachchan in
Zanjeer. Zanjeer
became Big B's breakthrough film, thanks in no small part to his screen chemistry with Pran's character Sher Khan, and the friendship-themed song
Yaari Hai Imaan
.
Amitabh Bachchan and Pran formed a fast friendship off-screen and Pran even made a rare public appearance at his old friend's 70th birthday party on October 10. Amitabh Bachchan tweeted: "Many are not aware that though Pran Saheb played the villain to perfection, he had great sense of humour and poetry .. !"
As the 1980s drew around, Pran began to take roles which did not require any great physical exertion and by the 90s he had retired, appearing in only two films - Mrityudaata and Tere Mere Sapne. One of Bollywood's most celebrated actors, Pran has won four Filmfare awards and received the Padma Bhushan in 2001. He is 2013's recipient of the Dadasaheb Phalke award.
Pran and wife Shukla have two sons, Arvind and Sunil, and a daughter, Pinky.