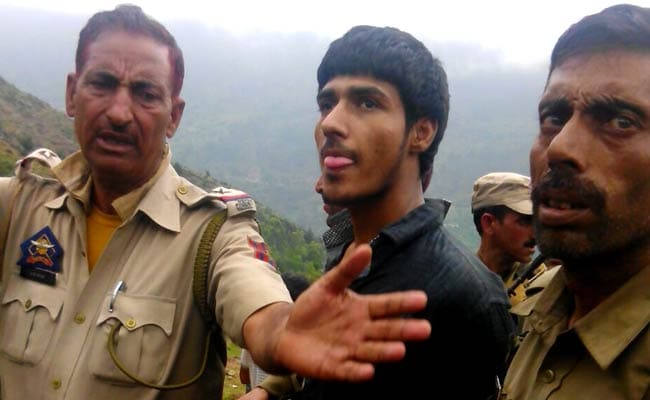 Mohammad Naveed or Qasim is 22. Or 16, depending on which of his statements, if any, is true. In the 24 hours since he was arrested, the terrorist has constantly changed his statements during interrogation, sources have said.
A video recording soon after he was arrested on a hill top near Udhampur featured a very young man with a smattering of facial hair who smiled incongruously as he answered many questions thrown at him by cops and villagers.
Hands bound behind his back, he demonstrated no fear or discomfort. His words were inconsistent and sometimes chilling.
"Its fun doing this," he has said, and also, "I came to kill Hindus." He said he had been in India for only 12 days and described reaching Udhampur on foot.
Interrogators say this man is no rookie, new to the business of terror. This is an extremely hardened terrorist, they say, based on his answers to sustained questioning since he was captured. He was interrogated through last night and the smile, said sources, did not flag.
He has now reportedly said that he has been in India for 45 days and that he travelled to Udhampur in a truck - though he has also named other vehicles.
He has been assessed as psychologically very strong and sources say he appears to have been thoroughly brainwashed.
The terrorist initially said his name was Qasim. He changed that to Usman and then Naveed. He has allegedly told his interrogators now that he is Qasim, trained by the terror group Lashkar-e-Taiba.
The only detail consistent in his statements so far is that he is from Pakistan, denied today by Islamabad.
The terrorist has reportedly said that he is from Ghulam Muhammadabad in Pakistan's Faislabad. He says his father is Mohammad Yakub and that he has two brothers, one a college lecturer, the other a businessman.
He was captured yesterday after an attack on a BSF convoy near Udhampur in Jammu and Kashmir.