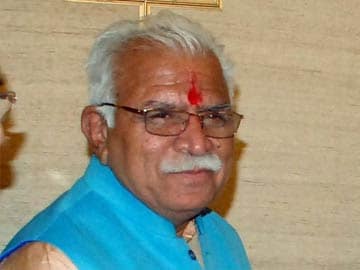 New Delhi:
In 1996, when Narendra Modi was the BJP leader in charge of Haryana, Manohar Lal Khattar worked closely with him.
The two men had the shared context of having been RSS pracharaks or functionaries - Mr Khattar had been deputed to the BJP just two years before that.
Almost two decades later, Prime Minister Narendra Modi has picked ML Khattar to be Haryana's next chief minister. He has been chosen, say party sources, for his very clean image in a state where the BJP unseated the Congress with a promise to make Haryana.
Mr Khattar is also seen as a committed Sangh worker, with his 40-year-association with the RSS and 20 years as organising secretary in the BJP's Haryana unit in which he built a reputation as a key strategist.
He was the chairman of the party's campaign committee for Haryana in the national elections and the party won seven of the state's 10 seats. On Sunday, it extended that dominance to the assembly elections, winning 47 of Haryana's 90 seats, a clear mandate to form government.
In the general elections, ML Khattar had charge of 50 wards in Varanasi, Mr Modi's Lok Sabha constituency in Uttar Pradesh.
The Prime Minster has handed him key tasks earlier too. In the state elections held a year after Mr Modi was sent to Gujarat as chief minister in 2001, he gave charge of the party's campaign in the Kutch region to Mr Khattar. It was a difficult assignment in a region flattened in 2001 by the massive Bhuj earthquake.
For all that experience in election strategy, this was the first time that ML Khattar contested elections. He has won from Karnal, where the PM began his Haryana campaign this time.
In the party, the unmarried 60-year-old is known for keeping a low profile and being a tough task master.
Mr Khattar belongs to the Punjabi community in the Jat dominated politics of Haryana - he will be the first non-Jat chief minister in 18 years.
His family re-settled in Rohtak after migrating from Pakistan during partition. He graduated from Delhi University.