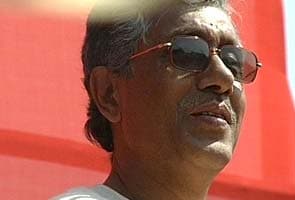 Agratala:
Manik Sarkar, 64, has won a fourth term as chief minister of Tripura today, with the state proving its undiminished loyalty to the Left, giving it a fifth consecutive shot in government.
Mr Sarkar, tall and wearing a white
kurta pyjama
, said this evening, "I am not surprised at all with the verdict. It was on expected lines. This is not my victory alone. It was not based on my personality. It was a product of collective actions. Individuals don't matter. You may think election was about but me I don't agree."
Mr Sarkar, defying the stereotype that Indian politicians have fashioned, is known for his meager bank balance. He's often described as the poorest chief minister in the country, an anointment he is shy of discussing.
Manika-
da
(brother), as he is known, draws a monthly salary of Rs 5,000; he last took a pay raise nearly five years ago. He travels in a CPM-owned Scorpio car with some security, and is known for his 12-hour work days. Colleagues describe him as affable but a tough taskmaster.
He lives with his wife, Panchali. They have no children.
As a college student in the 60s, Mr Sarkar studied commerce in the state capital of Agartala. He took part in the food movement against the Congress in 1967. The Naxal movement in the country influenced him, and he joined the Left-affiliated Students Federation of India.
He joined the CPI(M) a few years later. During the emergency, he was among student leaders who galvanized anti-emergency protests by students in Agartala.
He was elected for the first time to the Tripura Assembly in 1980 from the constituency of Agartala town. He was voted out five years later.
In 1998, he was made the chief minister of the state. He's been in office ever since, proving himself bullet-proof to anti-incumbency. In addition to his honesty, voters say he stands out for weeding out militancy from the state and ensuring it remains one of the most peaceful in the region.
Mr Sarkar is known to be passionate about cricket and movies.