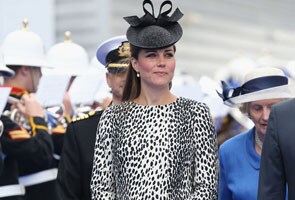 Duchess of Cambridge, Kate Middleton gave birth to a boy on July 22 at St Mary's Hospital in London. Kate is married to Prince William and the couple's first child will be the third in line to the British throne.
Catherine Elizabeth Middleton was born on January 9, 1982 to pilot Michael Middleton and flight attendant Carole, in Reading, Berkshire, England. Kate has a younger sister, Philippa (Pippa) and a younger brother, James.
Unlike her royal status now, on her father side Kate's ancestors were woollen cloth merchants and manufacturers.
Her maternal ancestors, the Harrisons, on the other hand, were labourers and miners from Sunderland and Durham.
Kate grew up in Chapel Row at Bucklebury, a village near Newbury.
From 1984-1986, her parents worked for the British Airways in Amman, Jordan and she was sent to an English language nursery school there.
In 1987, Carole Middleton founded her own mail-order party goods company Party Pieces. The business was a success eventually making the Middletons multi-millionaires.After returning to England, Kate studied at the St Andrew's School near the village of Pangbourne in Berkshire and at Downe House. She then went to Marlborough College, a co-educational independent boarding school in Wiltshire.
Kate attended Scotland's St Andrew's University where she studied the History of Art. She met Prince William in 2001 and the couple began dating two years later The couple officially announced their relationship after they were spotted enjoying a ski trip together in Klosters in April 2004. Once the media got to know about Kate and William's love story, the paparazzi followed the couple everywhere. So much so that in 2005 she complained about harassment from the media.
The couple shocked everyone, when they announced their break up in 2007. But the two continued to remain friends and later rekindled their relationship.
Kate and Prince William got engaged after an eight-year courtship. For Kate, it was a moment of validation after being dubbed 'Waity Katy' in the press for not having a proper job and seemingly just waiting for a Royal proposal.
The official announcement was made in November 2010, after Prince William proposed to her during a holiday in Kenya the previous month.
On April 29, 2011, Kate Middleton walked down the aisle of Westminster Abbey in a stunning ivory, lace-overlaid Alexander McQueen wedding dress to marry Prince William. After the ceremony, William kissed his new bride not once, but twice on the balcony of Buckingham Palace like his parents had done 30 years earlier, cheered on by the crowd below.
Kate also became the first commoner to marry a Prince close to the British throne in 350 years.The same day, in accordance with royal tradition, Prince William was announced the Duke of Cambridge and Kate became the Duchess of Cambridge.
After her wedding, Kate Middleton has transitioned to a style icon the world follows and admires thanks to what is called the "Kate Middleton effect". She is known for mixing and matching couture pieces with High Street retail fashion. An online survey named her the Queen of High Street Fashion. She also earned a place on Vanity Fair's 2011 International Best Dressed list.
She was also selected as one of The 100 Most Influential People in the World by Time magazine in 2012.
Kate has worked as an accessory buyer for the clothing chain Jigsaw and also as a part-time catalogue photographer, webpage designer and marketing officer for her parents' firm Party Pieces.
After a series of pregnancy rumours, in December 2012 it was finally made official that the Duke and Duchess of Cambridge were expecting their first child.
Prince William is second in line to the throne, after his father Prince Charles and Kate is expected to become a queen consort.