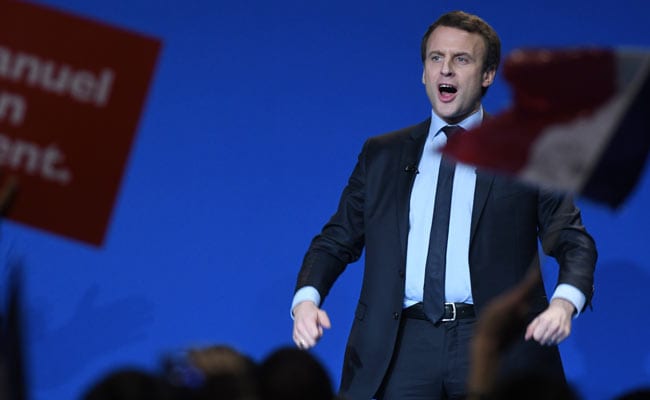 Paris:
"Neither of the right, nor the left" in his own words, Emmanuel Macron is a 39-year-old former banker hoping to convince the French to take a chance on youth in this year's election.
He has never been elected and only started his party last April, but polls currently show Macron is the most likely winner of the two-stage election in April and May in what would be a sensational shake-up.
After quitting his job as economy minister under unpopular President Francois Hollande in August, he has concentrated on building up his own centrist political movement called "En Marche" ("On the Move").
The accomplished pianist was initially dismissed as appealing to a narrow group of young, urban left-wingers, but his packed rallies around the country point to a wider base of supporters.
"We can't respond with the same men and the same ideas," Macron said as he launched his presidential bid in November at a jobs training centre in a gritty Parisian suburb.
With levels of frustration high with France's political class, Macron appears to have tapped into a desire for wholesale change which has also propelled far-right, anti-establishment candidate Marine Le Pen.
"I'm here because he's young, he's dynamic. It's like a breath of fresh air," 23-year-old shop worker Marine Gonidou told AFP at a rally in Brittany in January.
At 39, Macron would be the youngest leader of France in modern history, upending tradition that has seen voters tend to favour experience in their powerful presidents.
Although positioned as an outsider, he has followed a well-worn path through the elite French universities including ENA, which serves as a finishing school for top civil servants and future leaders.
After going into banking, where he earned nearly 2.4 million euros ($2.6 million) from 2011-2012 at Rothschild, Macron became an economic advisor to Hollande in 2012 and then economy minister two years later.
During his time in government, he is best known for a free-market law that bears his name which liberalised the bus sector, allowed large shops to open at weekends and offered investment incentives to farmers.
The legislation was strongly contested by France's powerful trade unions and had to be rammed through parliament using executive powers, but it helped cement his image as an economic reformer.
"I want us to be able to start a business more easily, to innovate more easily" is one of his mantras, repeated at rallies and explained in his pre-election book "Revolution".
As well as wanting to improve the business environment, he stresses the need to improve education in deprived areas and has spoken out against France's strict rules on secularism being used to stigmatise Muslims.
His understanding of tech firms and the "Uber-isation" of the economy, in which people increasingly work as independents rather than as employees, has helped burnish his image as a moderniser.
Childhood romance
In his personal life, Macron is anything but orthodox.
The literature and drama lover from a middle-class family in northeast France fell in love with his secondary school teacher, Brigitte Trogneux, in a story that has captivated the French media.
Trogneux, a mother of three children more than 20 years his senior, went on to divorce her husband and marry the young prodigy in 2007.
"At the age of 17, Emmanuel said to me: 'Whatever you do, I will marry you!'," Trogneux told Paris Match magazine last April.
Some have found the relationship difficult to believe despite their numerous appearances on the front of the Paris Match society magazine, forcing Macron to repeatedly laugh off rumours he is gay.
He has a masters in philosophy and once worked as an assistant to renowned French philosopher Paul Ricoeur, helping him to publish his last book before his death.
While at ease among ordinary voters, Macron tends to talk frankly and can sound condescending, whether referring to "illiterate" abattoir workers, "alcoholic" laid-off workers or the "poor people" who travel on buses.
In an infamous exchange, when confronted by a protester in a T-shirt in May last year, he lost his cool, saying: "The best way to buy yourself a suit is to work."
(Except for the headline, this story has not been edited by NDTV staff and is published from a syndicated feed.)