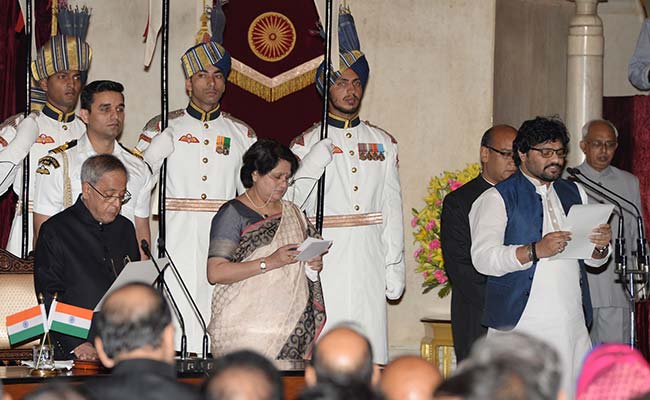 Kolkata:
Banker to Bollywood playback singer to politician to minister in the Narendra Modi government - for 43-year-old Babul Supriyo, the youngest minister in Narendra Modi government, it has been a long and colourful journey.
He is now the Minister of State for Urban Development, Housing and Urban Poverty Alleviation.
Supriyo, who turns 44 next month, quit a lucrative job at a multinational bank to pursue his first love - singing.
After ruling the Bollywood charts and performing as a lead actor in Bengali films, Supriyo moved into politics, scripting a surprise win from the Asansol cosntituency, where the BJP has been traditionally weak.
The BJP had never won from the industrial town and this time, it was on the lookout for a fresh face. Supriyo's toughness, hard work and determination pleased the party leadership.
Overriding the Trinamool Congress campaign against him, Supriyo defeated the ruling party's Dola Sen - a trade union leader and close confidant of chief minister Mamata Banerjee - by over 70,000 votes.
Supriyo became one of the two BJP MPs from the state in 2014. But his victory was sweeter given that this was the first time the BJP was contesting on its own. The other triumphant candidate - SS Ahluwalia from Darjeeling - had the backing of the local outfit Gorkha Janmukti Morcha.
Born and brought up in Hooghly district's Uttarpara - a small town on the banks of the Hooghly river - Supriyo learnt the basic grammar of music from his grandfather, Banikantha NC Baral - a Bengali vocalist and composer.
His singing talent became manifest early, as Supriyo won several inter-school and inter-college music compositions and performed regularly in All India Radio and Doordarshan since childhood. In 1992, Supriyo migrated to Mumbai to make a career in Bollywood.
Supriyo, who holds a Bachelor's degree in commerce from Calcutta University, becomes the third BJP minister from the eastern state after Tapan Sikdar and Satyabrata Mukherjee.
"Whatever portfolio is handed to be me I will try to fulfill the responsibilities with utmost sincerity," he told reporters after the swearing-in.