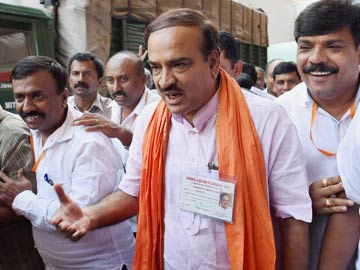 New Delhi:
Ananth Kumar, one of the the BJP's most prominent leaders in Karnataka, is in charge of the ministry of Chemicals and Fertilizers in Narendra Modi's government.
When former Infosys heavyweight Nandan Nilekani was declared as the Congress' candidate from Bangalore South in January this year, there were many who predicted he would pose a tough challenge to Mr Kumar, who had been winning the constituency non-stop since 1996. Mr Kumar, 54, proved his detractors wrong in the end, retaining the seat comfortably. He defeated Mr Nilekani by a huge margin of 2.28 lakh votes, reaffirming his control over the prestigious Lok Sabha constituency.
A Brahmin by caste, Mr Kumar is among the top BJP leaders who warned their political baptism in the ABVP, the students' wing of the RSS. He rose up to become its national secretary, before being drafted into the BJP. He snuggled himself close to former deputy prime minister L K Advani, and is among the few leaders who has stood beside the BJP veteran through thick and thin. He refused to jettison his mentor even after he earned the ire of the RSS for his attempt to accredit Mohammad Ali Jinnah, the founder of Pakistan, with the "secular" tag.
He remains close to Mr Advani, but, of late, he has also built bridges with Narendra Modi. He was instrumental in ensuring the ouster of former Karnataka chief minister B S Yeddyurappa from the BJP, but had to swallow his pride and forced to give up his resistance to the Lingayat strongman. After Mr Yeddyurappa was forced to resign from the chief minister's post in 2010, Mr Kumar lobbied hard with the party's central leadership to nominate him as the successor, but failed to convince them.
In the Atal Bihari Vajpayee government, Mr Kumar held the portfolios of civil aviation and urban development, but his innings in the two ministries were considered to be lacklustre. He now gets a chance to refurbish his image.