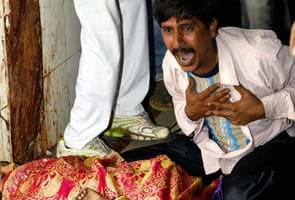 Patna:
Bihar Chief Minister Nitish Kumar refuted reports that a bamboo bridge collapse caused the death of 18 people during Chhat festival celebrations in Patna.
In a late night press conference at his residence, Mr Kumar told reporters, "This incident took place not because of the collapse of a temporary bridge made of bamboo but due to stampede."
The Chief Minister said that he had asked Home Secretary Amir Subhani to inquire into the incident. "An inquiry would be conducted to identify the cause of stampede that resulted in the incident," he said.
He said that the government would take action against those found guilty.
A police official said earlier that the "incident took place after a temporary bridge made of bamboo collapsed due to heavy rush of people..."
A district administration official said the people were returning after offering prayers around sunset at Adalatganj ghat.
The government has announced a compensation of Rs.2 lakh to the next of kin of each of those killed, a district official said.
Over four lakh people from Patna and nearby areas gathered at different ghats for Chhat celebration, officials said.