If one were to step away from the headlines, the biggest economic problem before the country continues to be the agrarian crisis.
The Nirav Modi swindle brought that into sharper effect. The 11,000 crores he has stolen from Indian banks - before being allowed to escape abroad - could have repaid the debts of literally millions of farmers. And to think small farmers commit suicide because of a loan of a few thousands rupees!
The sad part is the BJP government continues to be in denial. Glib solutions and clever phrases are offered as panacea. Suicide cases by farmers, forced to end their lives because agriculture has become a desperate gamble of monsoons and moneylenders, are explained away as alcohol or romance-induced tragedies.
So poor has been the management of agricultural affairs that even the bumper harvest of 2017 did not help farmers. It followed two years of drought. It resulted in prices crashing and farmers suffering again, rather than benefiting from better rains. As a result, debts and cases of suicide rose. A government that fails the farmer in a drought year lacks a heart. What does one say of a government that fails a farmer in a harvest year? It lacks a mind.
The crisis on our farms is at the heart of India's rural distress. When a farmer and his family suffer, so do others in the rural economy - the carpenter who makes small furniture for the farmer's family, the weaver and tailor who sell cloth or stitch clothes. Consumption falls all round. From cement to two-wheelers, our farming community can sustain many sectors. But before that, its members have to be secure about their future - not live day-to-day.
The government's standard response to all this is: we are committed to doubling farm incomes by 2022. Let us examine that promise closely. What does it amount to? What is an average farmer's income in the first place? As per the National Sample Survey Organisation's "Situation Assessment Survey of Agricultural Households" of 2013, the average monthly income of a farm household of five members is Rs 6,426. This includes income from all sources - farming and non-farming activities, such as running a shop in the village.
This 2013 NSSO finding is the last authoritative number on farmer incomes at the national level. There has been no study since then. None in the (almost) four years of the BJP government. NSSO data also tells us that the average monthly consumption expenditure of a farm household in India is Rs 6,223. This means the average farmer family (five people) saves Rs 203 a month. One illness or festive occasion in the family, and it has to borrow.
These numbers are a telling reminder of the state of our farmers. There are other statistics worth pondering. The Socioeconomic Caste Census says that in 75 per cent of rural households, the principal breadwinner earns less than Rs 5,000 a month. Only in eight per cent of rural households does the principal breadwinner earn above Rs 10,000 a month. For SC and ST households in rural India, just four per cent of principal breadwinners earn above Rs 10,000 a month.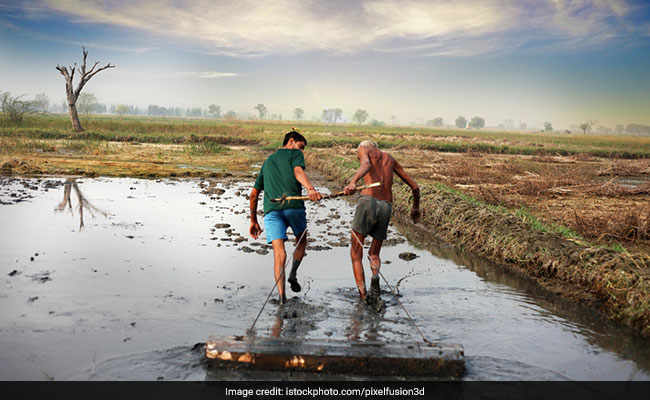 As such, when we speak of doubling farm incomes this is the base we start from. Given 50 per cent of our agricultural area is still dependent on the monsoon and irrigation coverage is so low, the claim of doubling incomes is a sham. As per the government's Economic Survey itself, in the past four years, the level of real agricultural GDP and real agricultural revenues has remained constant. In effect, there has been no growth since 2014.
To quote former Prime Minister Manmohan Singh, agriculture will need to grow at 12 per cent year after year for farm incomes to double by 2022. The current rate of growth is 2.1 per cent. India's farmers are being shown a mirage.
The government realises it has over-promised and under-delivered. So it has proposed to hike MSP (minimum support price) to boost farm incomes. Explaining this last-resort action, the Finance Minister said in his Budget speech: "Farmers should realise at least 50 per cent more than the cost of their produce. Government has declared Minimum Support Price (MSP) for the majority of rabi crops at least at one-and-a-half times the cost involved. Now ... government has decided to keep MSP for the all unannounced crops of kharif at least at one-and-half-times of their production cost."
Let us decode that sentence. According to the government, all rabi crops are already being procured at 1.5 times of their cost of production. Now the question is which methodology is the government using to calculate "cost of production"? Herein lies another fudge.
The Commission for Agricultural Costs and Prices is responsible for suggesting the MSP of crops. The government has never openly declared how the Commission comes to its recommendations. Separately, a committee chaired by eminent agricultural scientist MS Swaminathan has recommended an MSP that allows 50 per cent profit over the cost of production classified as "C2".
What is "C2"? It is A2 (actual costs) + FL (implied economic value of family members working on the farm) + rent and interest on land and capital assets. This is the authentic baseline for calculating cost of production.
For the year 2017-18, the MSP on rabi crops ranges between 0.5 per cent and 38 per cent higher than C2. Not 50 per cent.
The government is basing its promise of "1.5 times of production cost" - or 50 per cent above production cost - on A2 + FL. It is ignoring the larger and more realistic C2. As such, farmers are clearly not being given an MSP that is as generous as the Finance Minister is claiming. Besides, MSP coverage is pitifully low - only six per cent of farmers are covered by MSP. The vast majority sell their crop at far below MSP.
Where does that leave our government's hollow promises and where does that leave our farmers? The rural backlash building up for the 2019 election will give the answer.
Derek O'Brien is leader, parliamentary party Trinamool Congress (RS), and Chief National spokesperson of the party.
Disclaimer: The opinions expressed within this article are the personal opinions of the author. The facts and opinions appearing in the article do not reflect the views of NDTV and NDTV does not assume any responsibility or liability for the same.
Follow NDTV for latest election news and live coverage of assembly elections 2019 in Maharashtra and Haryana.
Subscribe to our YouTube channel, like us on Facebook or follow us on Twitter and Instagram for latest news and live news updates.