I think it's absolutely normal for any mother to wish for her son to settle down. My mother is no different. She's 57, and fears I'll be alone after she's gone.
Last week, she asked me a question any mom would ask her 36-year-old son: "Are you dating someone? Are you fond of someone?"
And when my answer was in the negative, my mom did what any Indian mother would do -she decided to place an ad in a newspaper.
I've got six responses so far. 2 Iyers, two Muslims and a couple of others. Let's see!
But here's what happened. My mother and I had a hilarious discussion on the content of the ad - should we mention the preferred 'gotra', the height of the boy, etc.? We both laughed.
On a serious note, I told her that I wanted a partner who is vegetarian and an animal lover. Sure, I wouldn't judge people by what's on their plate - but these two things, I definitely want.
My mother's was an arranged marriage. She wanted a husband who loved Mills and Boon so they could exchange them and fight over stories!
My mother said that my grandmother would prefer an 'Iyer' - so that's how 'Iyer' was a part of the ad.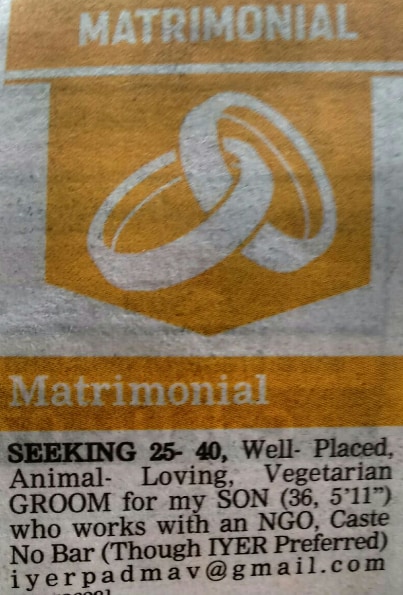 Now, since my mother is internet illiterate, I decided to log onto
releasemyad.com
. I asked her what newspapers she'd prefer.
She chose DNA because they had a whole section dedicated to LGBT. It was Wednesday, and I decided to place an ad for Saturday's issue. It cost about Rs 1,000. On Friday night, the status on the website read - 'issue refund'.
I rang them (
releasemyad.com
) and asked what the matter was. They said they had no idea and that I should contact DNA.
I rang DNA and spoke to a lady who said there was a 'legal issue'. I was furious and asked her to put this in writing. She refused.
I then went to Times Of India's office on Saturday. Sunday is when their matrimonial section is released. I gave the ad's content to a lady at the counter. She read it and said "There is a grammatical error" (she was referring to us seeking a groom for a man). But she was very sweet and genuine. I explained to her that I am homosexual and that my mother wanted to place this ad for me. She was all smiles. She asked me to make the payment and sign a form. She showed me a preview of the ad and I was happy. She gave me a receipt that had this at the back: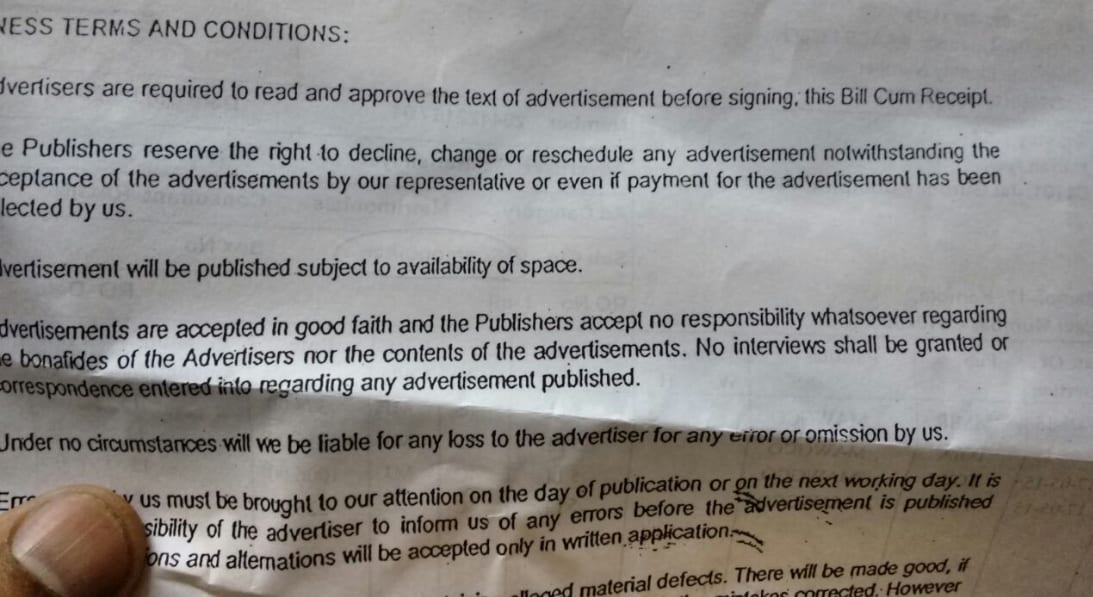 I came home and she called me to say that their Legal team had rejected the ad. I was disappointed, and didn't collect the refund (of Rs. 2,300).
I rang Hindustan Times and Mid-Day, and told them I am homosexual and wanted to place an ad in the matrimonial section.
Hindustan Times wanted an e-mail and said they would get back. It was Saturday evening. I mailed them but didn't hear from them.
Mid-Day was fantastic
. I spoke to this lady and told her about the ad we were trying to place. She had no odd reaction and so I thought she hadn't got it right. I said "Ma'am, I'm homosexual and I..."
To my surprise, she completed the sentence "
Haan haan aap homosexual hain aur aapki mummy aapke liye shaadi ka ad daalna chaahti hain
"
I was so happy. I wasn't carrying any cash so I couldn't pay for the ad to appear the next day - which was Sunday.
On Monday, Mid-Day sent someone to collect the money and the ad was out on Tuesday.
My mother said that the preference for Iyer was obviously not important. She said she wouldn't mind even if I marry someone differently-abled
I feel it's time we accept that we are biased and try and change our outlook.
(Harish Iyer is an equal rights activist in Mumbai. He is the only Indian national to feature in The Guardian's list of 100 most influential LGBT people in the world.
)
Disclaimer: The opinions expressed within this article are the personal opinions of the author. The facts and opinions appearing in the article do not reflect the views of NDTV and NDTV does not assume any responsibility or liability for the same.