It's that time again, when we scan the stars for clues about the year ahead in mergers. What follows is our second annual Gadfly compilation of dealmaker horoscopes: 12 CEOs and top executives across a variety of industries -- matched with their zodiac signs -- who appear destined for M&A in 2018: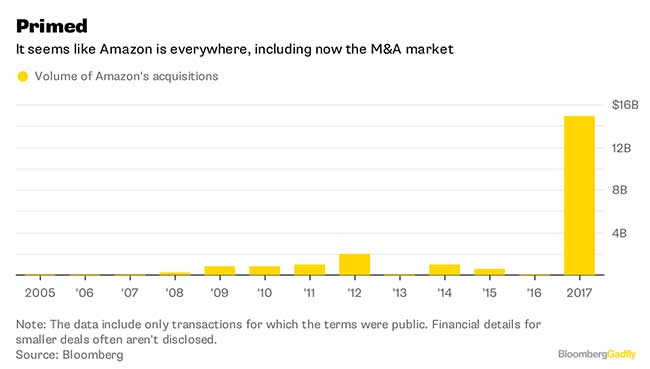 Capricorn 12/22-1/19 Jeff Bezos, Chairman and CEO of Amazon.com Inc.
Capricorn, you are known for your self control and discipline, traits that have helped neutralize the outlandish deal rumors that frequently surround Amazon. Still, in 2017 you delivered a surprise -- the $13.7 billion deal for Whole Foods Market -- proving that you're willing to go big when and where necessary. The ease and success of this bet thus far have made you more comfortable with the idea of large-scale M&A. Clairvoyants may not agree on what your next venture will be -- downtrodden investors have pushed the idea of an opportunistic grab for retail property, while news reports have suggested an interest in teaming up with Dish Network. Whatever the case may be, the stars point to a more aggressive you in 2018. While that may be something for Amazon shareholders to look forward to, it's a warning to the companies in whichever space you occupy next.
Aquarius 1/20-2/18
See footnote.
Pisces 2/19-3/20 Charlie Ergen, Chairman of Dish Network Corp.
Like a slippery fish, Dish's value is tough to get a handle on. It's in the shrinking business of satellite TV, yet its true worth lies in $40 billion of wireless spectrum licenses that it's not using. Pisces are skilled at the art of illusion, but it's time now for you to articulate the company's future. Stepping aside as CEO this month shows you are ready to get serious about working out a deal. Perhaps Lowell McAdam, Verizon Communications Inc.'s chief, will grit his teeth and finally make an offer. While there are other fish in the sea -- T-Mobile US Inc., Sprint Corp., Comcast Corp. and maybe even your Capricorn counterpart -- haven't you played coy long enough? With the dawn of 5G networks and the broader industry's desire for scale, there will never be as great a premium placed on your spectrum assets, nor as many suitors for Dish, as there are right now. Miss the chance and shareholders will revolt.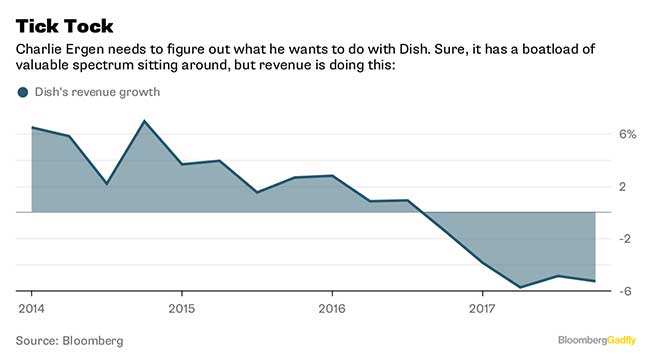 Aries 3/21-4/19 Shari Redstone, vice chair of CBS Corp. and Viacom Inc.
Aries, the ram, fights to win. That's why it gnaws at you to see Viacom still losing in the TV ratings and streaming battle, even if CEO Bob Bakish's efforts have delivered some faint glimmers of hope. Your competitive nature also means you won't let CBS sit out this merger round, which is shaping up to be the media industry's most extreme consolidation of power to date. Putting your family's businesses back under one roof is a clear option, but it might not be meaningful enough. What CBS really needs is a film studio, and Lions Gate Entertainment Corp. is just one phone call to John Malone away. Then again, Verizon or other CBS bidders may come knocking. It comes down to how you want to leave the empire behind. Your father is ailing, and there doesn't seem to be an obvious next of kin who could fill your shoes someday to crack the whip. While he worked well past retirement age, how long does Les Moonves, 68, plan to continue running CBS? Legacy planning will be top of mind for you in 2018.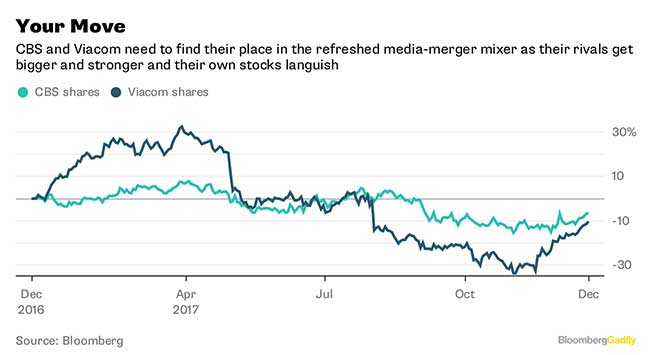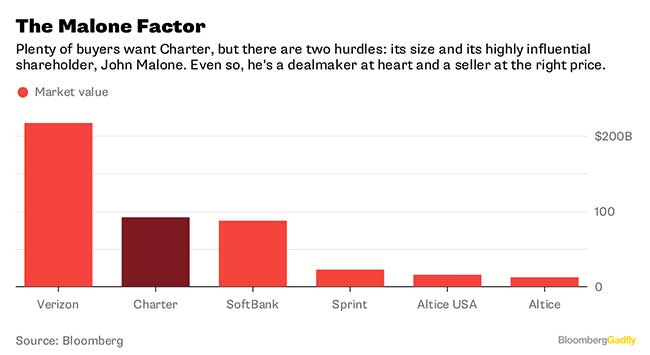 Taurus 4/20-5/20 Brian Goldner, chairman and CEO of Hasbro Inc.
You are a bull known to roam the merger fields, and yet you have no deals of size to speak of. Mattel Inc. turned down your recent offer -- but don't give up. This toy merger is decades in the making, and it's still worth it. In the past you've made other approaches to DreamWorks Animation and Lions Gate, two movie studios. It's certainly good to think outside the toy box. Still, your stubborn rival Mattel remains the most logical and desirable target to this day. Barbie's parent knows, just as you do, that the two companies would be stronger together. It's not just about plastic dolls and figurines anymore -- it's about having a content library and exploiting it in an age when every kid is armed with a mobile device. You've helped Hasbro shares climb by double-digits again this year, while Mattel's plunged 45 percent as it burns through cash. Use your pragmatism to help Mattel's new CEO see the light.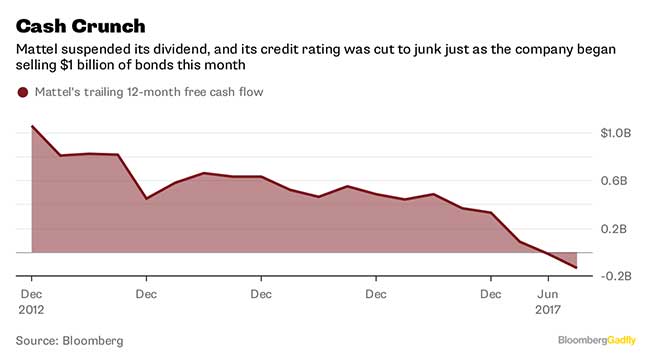 Gemini 5/21-6/20 Ian Read, Chairman and CEO of Pfizer Inc.
Gemini's dual nature has been on display at Pfizer. While your day-to-day duties are managing a conglomerate that sells treatments for everything from breast cancer to erectile dysfunction, lately there's been an obsession with Pfizer's taxes and takeover opportunities. The U.S. is on the verge of sweeping changes to the tax system, which you've hinted would be a catalyst for dealmaking, and it could provide some clarity as to which targets are best to pursue. Past efforts to buy Allergan Plc and AstraZeneca Plc failed, so it's important to get it right this time. This is finally your year. Are you leaning toward Bristol-Myers Squibb Co. and its growth drivers in the cancer space? Or perhaps Biogen Inc., with its potentially lucrative neurological disease therapies? There are other candidates, but it's a shrinking list. The treatment you acquired through the Medivation deal last year has already fallen short of expectations, and you're contending with older drugs and a pipeline just weak enough to demand action now.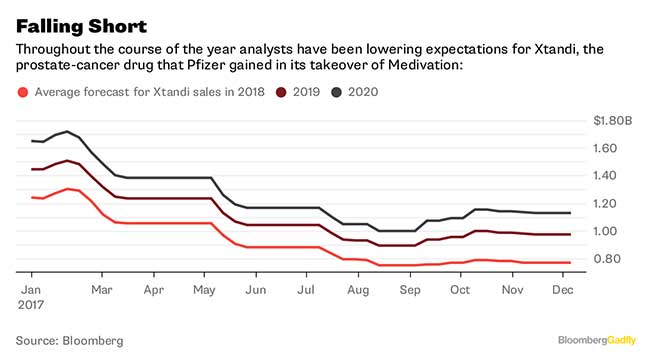 Gemini is represented by the twins, so here's another:
Robert Sands, CEO of Constellation Brands Inc.
What your father started as a New York wine business more than 70 years ago has grown into a $44 billion premium-priced alcoholic-beverage giant -- with the help of your M&A intuition. You've scooped up a number of craft brewers and big beer brands, and that's widened margins to enviable levels, providing the firepower for more deals. In October, you made a big splash by purchasing a stake in a marijuana business, making Constellation an early mover in what will be a trend among alcohol, tobacco and food companies of seizing the opportunities presented by pot. As for beverages, Jack Daniel's parent may have foolishly turned down an offer earlier this year. But there's a better candidate out there: Boston Beer Co., the maker of Sam Adams. Founder Jim Koch may not be so opposed to selling now, given his age (68), the business's recent challenges and the consolidation sweeping through the industry. The stars reveal another year of tasty beer and deals that go down just as smooth.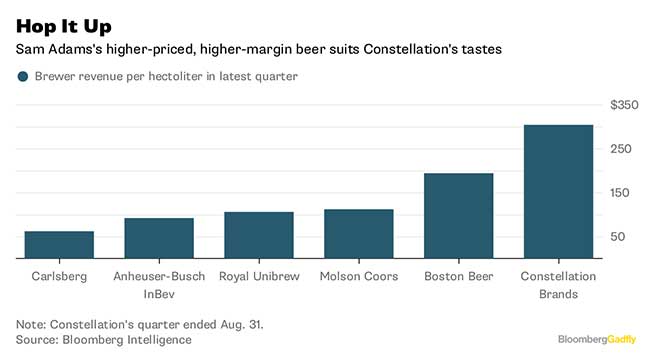 Cancer 6/21-7/22Mark Clouse, CEO of Pinnacle Foods Inc.
Cancer, the itinerant crab, carries its shell around so it can set up a home wherever need be. It's a fitting symbol for how you've helped Pinnacle Foods adapt to a changing environment, marking your territory in the better-for-you foods arena and shaking up the old Wish-Bone salad dressing brand. Now that the integration of the Boulder Brands acquisition (struck by your predecessor in 2015) is complete, you can start thinking about what other tidy portfolios or individual brands should be next on your list. Just don't be surprised to find your not-so-secret admirer Conagra Brands Inc. showing up again, this time with a takeover offer you can't refuse. The food M&A market is hot, if not overheated, which is evidenced by Campbell Soup Co. and Hershey Co. offering top dollar for two snack-food makers this month. Right now, it's certainly more advantageous to be a seller than a buyer.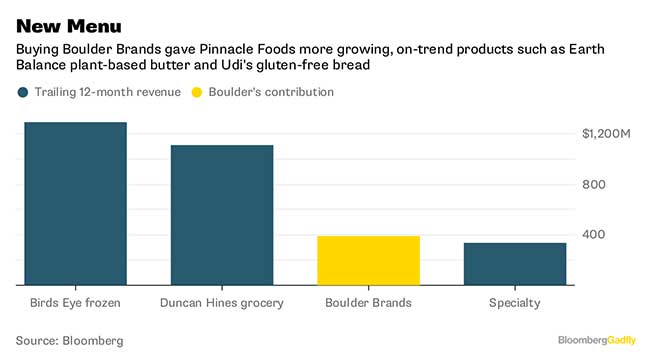 Leo 7/23-8/22 Victor Luis, CEO of Tapestry Inc.
You're a natural-born leader with a penchant for creativity, and that's come in handy as you try to fuse several affordable-luxury brands into one company. Your chosen name for the amalgamation of the legacy Coach business with the acquisitions of Stuart Weitzman and Kate Spade -- Tapestry, really? -- could use some work, but becoming a more diversified conglomerate is the right idea. The process of integrating Kate Spade and getting the brand back on track after years of deep discounting is still ongoing, but you already seem ready for more takeovers. Don't let those increased synergy estimates on Kate Spade go to your head; you still have to follow through. But if you can pitch a success story, maybe perennial target Burberry Group Plc will be more receptive this time around, especially as it grapples with further management upheaval and doubts about new CEO Marco Gobbetti's strategic plan.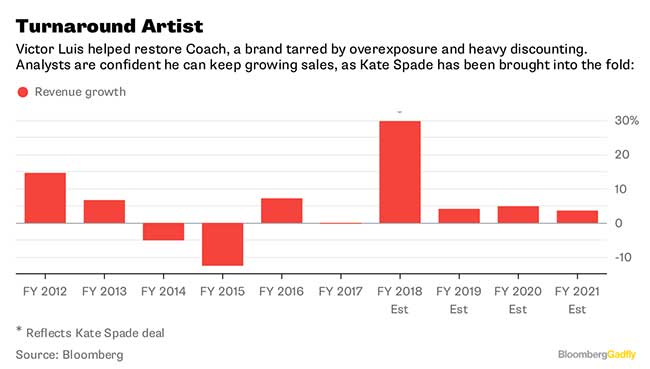 Virgo 8/23-9/22 Jamie Miller, chief financial officer of General Electric Co.
Virgo, your strong work ethic landed you a job as GE's chief financial officer, but your preference for order will be tested as the industrial giant works through its current state of crisis. So far, you've impressed investors with your confidence, candor and can-do attitude, even as an attempt at greater transparency in financial disclosures fell short of the mark. Among the items on your immediate to-do list is assisting CEO John Flannery with his plan to dispose of $20 billion of assets, including the transportation business you previously headed. A willingness to let go of legacy divisions despite personal connections is exactly the kind of thinking GE needs right now and will be useful should the company ever undertake the kind of radical breakup investors think it needs.
Libra 9/23-10/22 Tom Rutledge, chairman and CEO of Charter Communications Inc.
Who better to work alongside an astute billionaire like John Malone than a Libra whose nature is to keep harmony and balance? Still, you find yourself in a unique situation. Charter's most recent role in the M&A landscape has been as an acquirer, with your megadeal for Time Warner Cable that closed in 2016 and related takeover of Bright House Networks. A next logical target would seem to be Cox Communications. However, Malone may have other plans for you. He doesn't control Charter, but he and his business partner Greg Maffei do have board seats, and his Liberty empire is a significant shareholder. Malone has much influence over the fate of Charter, and he may be a seller. He's already said that SoftBank Group Corp., Altice NV and Verizon have shown interest in buying Charter, though the offers weren't good enough. Will you get the chance to do more industry roll-ups, or has Malone tipped the scale and made Charter a target? We'll find out soon enough.
Scorpio 10/23-11/21 Jack Dorsey, chairman and CEO of Square Inc. and CEO of Twitter Inc.
Ambitious Scorpio, it may be time to let go of one of your babies -- but which? It's not ideal that you're still running both companies, despite the fact that their stocks have posted their biggest annual rallies since going public. Sell ratings have become more numerous, though. While Twitter has always been seen as the most vulnerable to bids (if only because traders are hopeful), Square stands out as the more compelling play. You've expanded its offerings with services such as loans and inventory software that are attracting larger merchant customers. Analysts now see net income turning positive next year on a GAAP basis, a milestone of corporate maturity. But the expansion from payment processor to bank of sorts presents new risks. The stock is also already inflated from your recent jump onto the bitcoin bandwagon. Square has competition from all angles, so it needs to get bigger, faster. But with PayPal Holdings Inc. and potentially other suitors out there, the best option may be to take advantage of the spike and cash out. It would be a win for Twitter investors, too.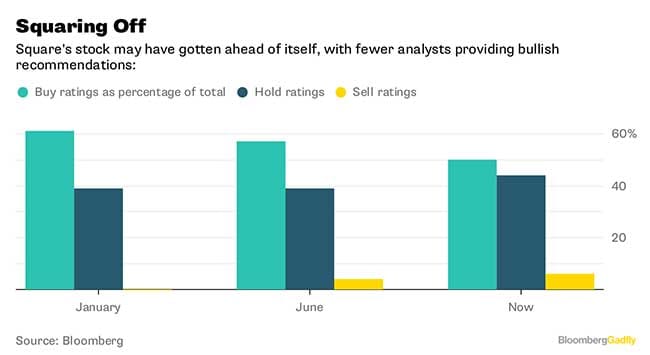 Sagittarius 11/22-12/21 Steven Temares, CEO of Bed Bath & Beyond Inc.
As a Sagittarius, you value your freedom, but it may be time to relinquish control of the Bed Bath & Beyond business you've run for more than 14 years and explore a sale to a private equity firm. Bed Bath & Beyond is just so darn cheap these days. The double-digit slide in its shares on Thursday as third-quarter results showed ongoing margin challenges didn't do much to help. Investments in technology and marketing seem too little too late, and the company's battle with coupon demons is unlikely to subside amid heated competition from Amazon and Wayfair Inc. The leverage required for a buyout is low enough to still be attractive even as Congressional Republicans successfully pass a tax bill with a cap on interest deductions. Why not put down your quiver and let someone else take a shot at turning things around away from the glare of the public market?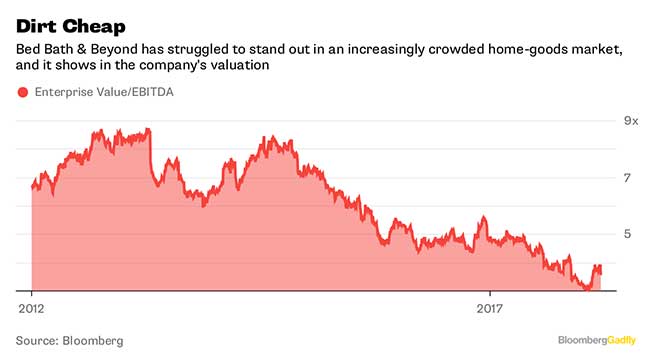 (Tara Lachapelle is a Bloomberg Gadfly columnist covering deals, Berkshire Hathaway Inc., media and telecommunications. Brooke Sutherland is a Bloomberg Gadfly columnist covering deals and industrial companies.)
This column does not necessarily reflect the opinion of Bloomberg LP and its owners.



Disclaimer: The opinions expressed within this article are the personal opinions of the author. The facts and opinions appearing in the article do not reflect the views of NDTV and NDTV does not assume any responsibility or liability for the same.
(Except for the headline, this story has not been edited by NDTV staff and is published from a syndicated feed.)