Ram Nath Kovind's election as President was a foregone conclusion but it has caused a political earthquake with potentially big aftershocks.
What was known much before today was that the election bored a Raisina Hill-sized hole in opposition unity; the new revelation is how much cross voting (in six states) contributed to Kovind's election with more than 65% of the vote. Out of 57 Congress MLAs in Gujarat, 49 voted for Meira Kumar, the candidate their party was backing. The "
Bapu
" faction of Shankarsinh Vaghela has (once again) left the Congress high command red-faced. But more worryingly for the party, it could have serious repercussions on the Rajya Sabha election of senior leader Ahmed Patel, the political secretary to Congress President Sonia Gandhi who enjoys the reputation of the party's "political brains trust".
Patel, a quiet behind-the-scenes operator is perhaps the only top Congress leader to have taken Vaghela's frequently-expressed anger seriously; anticipating the cross-voting by a group of legislators loyal to him,
Ahmed Patel even offered Vaghela a Rajya Sabha
seat last month as compensation for him not being declared the Chief Ministerial candidate, which is what is causing Vaghela's revolt. 67-year-old Ahmed Patel was elected to the Rajya Sabha from Gujarat in 2011; his term expires at the end of this year. This is Patel's fourth term in the Upper House and currently he is the only Muslim parliamentarian from the state. Patel has earlier represented Gujarat three times in the Lok Sabha.
Tomorrow, the disgruntled Vaghela will turn 77 and a huge public function is planned to convey his "
akrosh
" (anger) at Congress Vice-President Rahul Gandhi who Vaghela loyalists accuse of lackadaisical leadership as the contest builds with a resurgent BJP for the state in a couple of months.
"Nitish Kumar's defection was a public blow but, if Ahmed Patel can't get elected to the Rajya Sabha from a state where we are in a frontal confrontation with the BJP, it tells you a lot about Rahul Gandhi's political acumen. The very fact that huge cross voting has happened says that we were unable to get our act together and even lose gracefully. We have given Amit Shah another chance to gloat," complained a Congress leader from Gujarat who spoke on the condition of anonymity.
The strategy adopted by Rahul Gandhi as the crucial Gujarat election approaches has mystified observers. Apart from not naming a choice for Chief Minister, Vaghela says the party's lack of preparedness is alarming, an opinion unchanged after Gujarat-in-charge Ashok Gehlot and state chief Bharat Singh Solanki, a dynast like Gandhi, went to his home to placate him.
Vaghela is playing a shrewd political game, possibly in concert with Amit Shah, whom he met twice recently. Vaghela is virtually challenging the Congress to expel him; Gandhi is being his usual reticent self; the indecision over a mutiny has led to cross-voting to damage the party. Vaghela's single point demand (after he accepted he would not be named Chief Minister candidate) was that Solanki be replaced as head of the Congress in Gujarat. Gandhi gave him vague assurances but did not remove Solanki. Even if Vaghela does not break away from the Congress, a prospect still not ruled out, he can cause severe damage to the beleaguered party by sitting pretty while the "
Bapu
" faction" of MLAs gets to work to loosen the foundation boards.
"How long will we face electoral attrition while baby-sitting Rahul Gandhi is the biggest question," asked a senior Congress leader in Delhi today - a question that merits attention given the Congress's dizzying downward slide as its gets ready to promote Gandhi to President. Far from embarking on a serious quest to win Gujarat, which has been governed by the BJP for nearly two decades, far from trying to leverage the attendant anti-incumbency, the Dalit agitation in Una and the Patidar agitation spearheaded by Hardik Patel, Gandhi has more or less ignored the entry points created in Gujarat.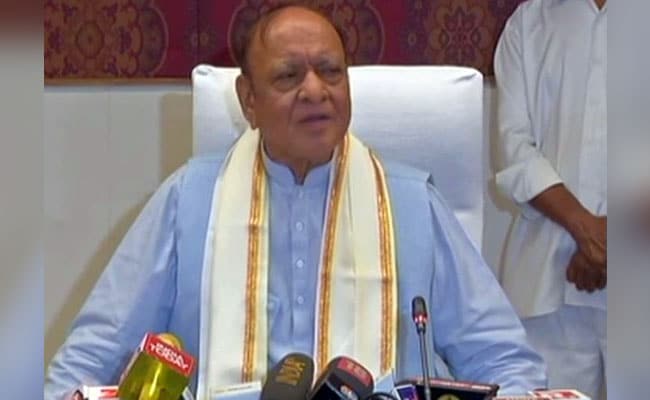 Gandhi could have scripted his political comeback from Gujarat by taking on PM Modi and Shah in their home turf. Instead he has chosen to run away from the battle. "He should have parked himself in Gujarat, led the leaderless Dalit agitation but, it seems he just wants to give Modi another walk over" said an MLA from the Vaghela coterie. "
Bapu
knows it is his last election, yet he is begging the party to fight; it seems the high command is not even ready to fight anymore."
It's not like there is a dearth of issues from farmers distress and suicide to the stand off with China, the slowing down of the economy due to demonetisation and jobless growth, but the Congress under Gandhi does not take up issues substantially. Gandhi visited Mandsaur once where five farmers died in a police firing in June and then promptly left for a holiday to Italy to visit his grandmother (third holiday this year). This flippant attitude means it's hard to take his visits to Ground Zero of different issues as anything but photo opportunities; his flitting from issue to issue irks the public and other opposition leaders who do not take him seriously. Yesterday, the Lok Sabha debated farmer distress and Congress chief whip Jyotiraditya Scindia made an impassioned speech. Gandhi was missing from the House on an official trip to Jaipur.
Under Gandhi's leadership, as indicated by Kovind's margin of victory, the entire party risks coming across as AWOL. India deserves a better opposition.
(Swati Chaturvedi is an author and a journalist who has worked with The Indian Express, The Statesman and The Hindustan Times.)
Disclaimer: The opinions expressed within this article are the personal opinions of the author. The facts and opinions appearing in the article do not reflect the views of NDTV and NDTV does not assume any responsibility or liability for the same.