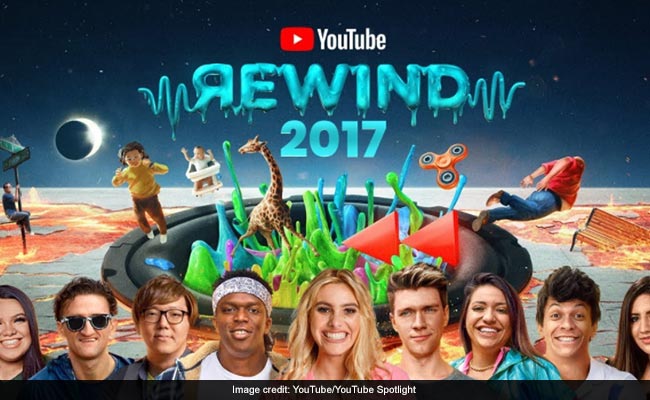 New Delhi:
It's that time of year again! As 2017 winds down, it's time to rewind and reminisce about the most viral moments of the year. YouTube released its annual YouTube Rewind video on Wednesday and in less than 24 hours, the nostalgia-inducing mashup of 2017's top trending and viral videos has been viewed over 26 million times already. In fact, it's among the top trending videos on YouTube today. The video features appearances from India's BB Ki Vines, vlogger Shruti Arjun Anand and comedy collective AIB. From fidget spinners to slime,
Despacito
to
Shape Of You
and even the cute
kids who crashed their father's interview on the BBC
, this video has it all.
So, what are you waiting for? Relive the year that was with your favourite YouTubers. Scroll down to watch YouTube Rewind 2017.
What is YouTube Rewind 2017 and why is the video trending?
YouTube Rewind 2017 features all the top trends of the year gone by. From the videos that topped trending lists, the music you played on loop (there's a reason the video is titled "The Shape Of 2017"), your favourite toys, gadgets, memes and, of course, the YouTubers that kept you streaming video after video.
What were 2017's top trends, according to YouTube?
At a little over seven minutes, YouTube Rewind 2017 packs in everything from a colourful slime fight (in case you were wondering, slime oozed all over YouTube this year with two million different uploads) and fidget spinners (the must-have toy of 2017) to "The Floor Is Lava" and "Spicy Noodle" challenges.
What are some of the viral videos included in the YouTube Rewind 2017 video?
There are almost far too many viral moments to keep a track of in YouTube's compilation but here are five of our favourites:
The first video to ever reach four billion views, Despacito was not only one of the biggest songs of the year, but became the biggest video in YouTube history in only 204 days.
Taylor Swift's music video for Look What You Made Me Do set the record for the biggest debut of any video in YouTube history, gaining 43.2 million views in its first 24 hours.
The moment Professor Robert Kelly's young children (and wife) stole the show when they interrupted his interview with the BBC.
2017 will always be known as the year April the Giraffe went into labour. The agonizingly long process of waiting for Tajiri's birth was livestreamed via the Animal Adventure Park's YouTube channel, making it the most live-viewed channel of the year.
And who can forget AmTrack's "Snow-Mo Collision"? The video a train pummelling commuters with an avalanche of snow was watched again and again - over 12 million times to be precise.
Who is featured in YouTube Rewind 2017?
Some of the YouTubers, content creators, artists and music featured in the YouTube Rewind 2017 video include: Luis Fonsi and Daddy Yankee rocking to
Despacito
, Ed Sheeran's
Shape Of You
, American comedian and talk show host Stephen Colbert, YouTubers Lilly Singh, Casey Neistat, Lele Pons, Liza Koshy, the Dolan Twins, The SlowMo Guys and Niana Guerrero.
Who are the Indian YouTubers featured in YouTube Rewind 2017?
The video features appearances from India's BB Ki Vines, vlogger Shruti Arjun Anand and comedy collective AIB. Also making appearances are Indian-origin YouTubers like Superwoman Lilly Singh and vlogger Kaushal Beauty. And because we love them so, we're including Liza Koshy and Safiya Nygaard who are both half-
desi
in this list.
Watch YouTube Rewind 2017 below:
Still reminiscing about the year gone by? Check out the
top 10 trending videos in India
this year.Click for more
trending news