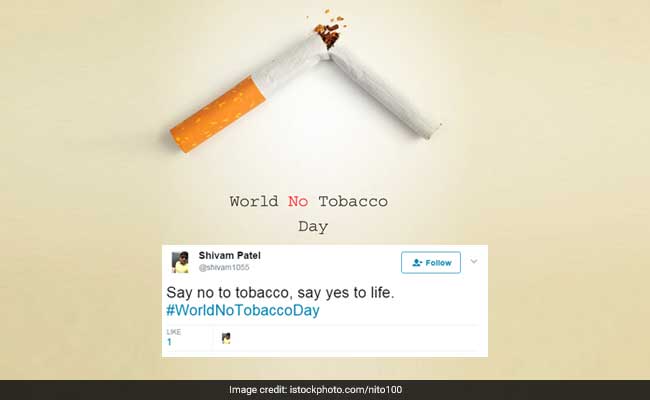 May 31 is World No Tobacco Day and several celebrities, politicians, sportstars and may others on social media are posting their messages on #WorldNoTobaccoDay to mark the day. It's no secret that smoking and using tobacco is extremely injurious, not only to one's health but also to others and the environment. "Tobacco threatens us all,"
says World Health Organization (WHO) Director-General Dr Margaret Chan
. "Tobacco exacerbates poverty, reduces economic productivity, contributes to poor household food choices, and pollutes indoor air." Tobacco use kills over seven million people each year, according to WHO.
So, to drive home the message that tobacco is harmful and should not be consumed in any way, people on Twitter are posting messages on World No Tobacco Day. "I left smoking almost 35 years ago! Will you?" tweeted Bollywood superstar Amitabh Bachchan earlier today. Many others, not unlike like Big B, are sharing their personal anecdotes of when they quit smoking and how they feel now. Tweeple are also sharing facts and figures related to tobacco usage. Some have even posted suggestions on how one can quit the habit.
Former Indian opener and current Twitter king Virender Sehwag, Railways Minister Suresh Prabhu, singer Shaan, and many others have also tweeted about #WorldNoTobaccoDay. The hashtag is trending on Twitter.
Here's what Twitter is saying on World No Tobacco Day:
T 2441 - #WorldNoTobaccoDay - 31 May 2017, "Tobacco - a threat to development." .. I left smoking almost 35 years ago ..!! Will you ? pic.twitter.com/V9rbD7hcrF

- Amitabh Bachchan (@SrBachchan) May 30, 2017
Please be eco-friendly. Don't emit smoke out of yourself like this car. Apne mooh se pollution mat failao.#WorldNoTobaccoDaypic.twitter.com/LzfyOaYHLA

- Virender Sehwag (@virendersehwag) May 31, 2017
On #worldnotobaccoday let us resolve to spread awareness about the ill effects of tobacco use

- Suresh Prabhu (@sureshpprabhu) May 31, 2017
On #worldnotobaccoday Today... Would request smokers to quit for just 3 months...realize the difference.. Life se Panga mat ley yaar :) https://t.co/IFBsmthwwd

- Shaan (@singer_shaan) May 31, 2017
No ifs, no butts#worldnotobaccoday

- Rahul (@PsychotronV1) May 31, 2017
Say no to tobacco, say yes to life. #WorldNoTobaccoDay

- Shivam Patel (@shivam1055) May 31, 2017
It's #WorldNoTobaccoDay .choice is yours Don't be Late.
We can beat tobacco
Say #NoTobaccopic.twitter.com/kpN0KmW3lR

- Amitabh Chaudhary (@amitabh_aks) May 31, 2017
Tobacco companies kill their best customers. Put it out before it puts you.#worldnotobaccoday#NoTobacco#QuitSMOKING#TobaccoKillspic.twitter.com/ejBUYLQiyR

- Sunil Sharma (@realSunilSharma) May 30, 2017
Normally don't like telling people to do this or that,but request all those who Smoke to have the will-power & give it up#WorldNoTobaccoDaypic.twitter.com/48WkOITWXz

- Rizwan Alam (@Rizwan_Alam_) May 31, 2017
It's been 3 days since I've quit smoking & today is the 1st day when my craving for a smoke have started subsiding#WorldNoTobaccoDay

- Sourya Mukherjee (@souryamukherjee) May 31, 2017
I used to smoke atleast a pack of cigarettes a day and its been exactly a month that I quit smoking. #ProudOfMyself
#WorldNoTobaccoDay

- Chaitanya (@rajachaitanya) May 31, 2017
#WorldNoTobaccoDay I quit it last year same day nd now what i feel is



The Actual Freedom- Run Barry Run (@SuperLaunda) May 31, 2017
If you're looking to finally kick the butt, today is the best day to do so. Say no to tobacco on World No Tobacco Day.
Share your thoughts on World No Tobacco Day in the comments section below.Click for more
trending news