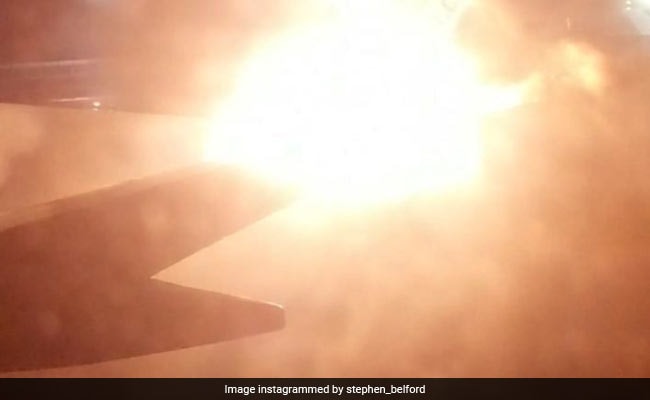 On Friday, two passenger jets collided at Toronto's Pearson Airport resulting in what authorities described as a "small fire" and evacuation of passengers and crew. An empty Sunwing Airlines plane was being towed when its wing crashed into a WestJet Airlines plane that had arrived from Mexico, carrying 168 passengers and six crew members.
Several videos posted by passengers on the WestJet flight depict the horror for those inside.
Stephen Belford, who was on the WestJet flight, wrote on Instagram that the pilot had just announced they were "low on staff" when the Sunwing flight struck them.
Video posted by Mr Belford shows the wing billowing out flames and smoke. Just seconds later, the wing ignites into a fireball sending passengers into panicked hysteria.
"Oh, f**k," he exclaims while undoing his seatbelt.
Others shout and try to make their way to the exit. A voice yells, "remain seated", several times. But it goes unnoticed.

"There was an audible crunch, and the plane rocked slightly. Everyone was a little shocked and kind of chuckling at the situation," WestJet passenger Gustavo Lobo told CBC News.


In another video shot by a passenger on-board, cabin is filled with commotion of scared flyers as the wing outside continues to spew out fumes.
A man says, "it's not our plane that's on fire". But the information makes no difference as many thought it was their own plane on fire. The yelling continues.

"Evacuate, evacuate," says a voice on the airline PA system but is drowned with screams of panicked passengers.

The video ends soon after a man announces, "grab your jacket, guys".


All passengers were safely evacuated from the WestJet flight and taken to the terminal. The fire was contained before it could spread beyond the wing. One firefighter was injured in the process. Transportation Board of Canada has sent two investigators to Toronto Pearson airport to assess the collision between the two planes, reported CBC news.Click for more
trending news