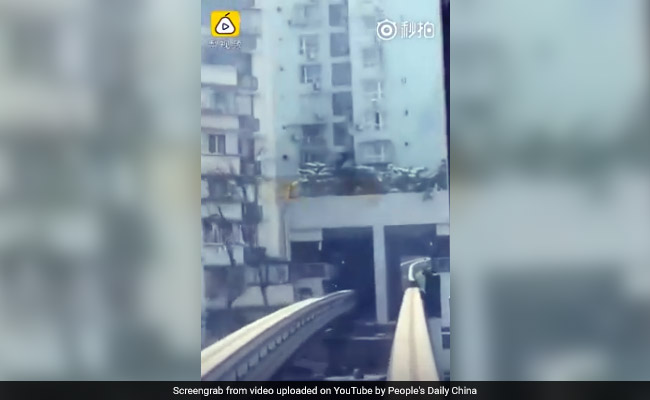 The train that goes through an apartment building is one of the most famous attractions in Chongqing, China. The Chongqing Rail Transit Line 2 that passes straight through a residential complex and has been a huge hit among netizens in China. While you may have seen several videos of the train from the outside, for the first time ever, a video gives a glimpse into what it's like to ride the popular train as it goes inside the apartment building. It's nothing short of magical.
Shot from inside the train, the video, posted on YouTube by People's Daily China, shows the thrilling moment the train enters the building. Inside the building, it crosses a series of pillars. But that's not all. The video also shows the train moving up and down the subway tracks in moves that resemble a roller coaster.
Watch the video here:
The unique train line has been operational since 2004 ferrying passengers through the city's complex metro rail network and web of freeways.
But passing through apartment buildings has its own disadvantages as last year the
train came to a halt after a blanket flew down from one of the apartments landed onto the tracks
. The driver had to resort to removing the blanket himself using a stick so that the train could move.
The famous train line isn't Chongqing's only attraction though. The hilly city of Chongqing, situated on the banks of a river, has often taken an uncommon and sometimes bizarre approach to urban space management. The city is famous for its mind-boggling flyovers and sky-high pedestrian bridges. Also, don't forget the
double lane road on the roof of a five-storey building
.Click for more
trending news