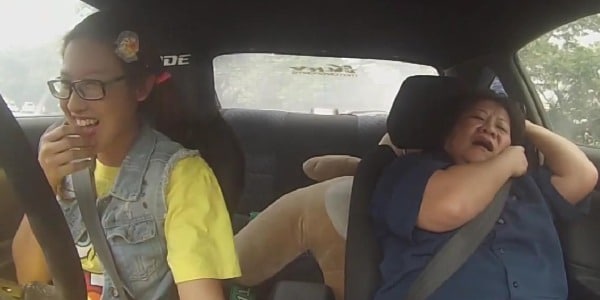 This one is guaranteed to leave you hanging onto your seats, probably with laughter and a teeny bit of fear. Professional motorsport athlete and car racing champion Leona Chin, teamed up with popular YouTube channel Maxman TV, to prank four instructors on their first day at work.
The idea of the prank came from the driving school itself, who thought it would be a fun thing to do to the newbies. The video has received over eight million views since March 24.

The video begins with the Leona transforming from a racer chick into a nerdy student wearing eye-popping neon clothes and glasses (cliche alert!). The first half of the video shows the four instructors trying their best to be patient with a student who cannot seem to get a grasp on the ABCs ('accelerator, brake, clutch' for the uninitiated).
Frustration is apparent on each of their faces as Leona pretends that she cannot drive while they haplessly try to teach her. May we just add that for a racer, Leona has excellent acting skills. As the car comes to a halt, and one of the instructors advices her to practice more, Leona asks for a last chance. And the games begin.

The three men look petrified as Leona maneuvers her way perfectly through the traffic cones at a freakishly high speed. The female instructor's seen literally hanging on to her seat belt, yelling her lungs out in fear. As the car comes to a stop, the four who were 'pranked' almost stumble out of the car probably thanking the Lord that they're still alive.


Perfectly done, Leona. This 'first day experience' is not one any of them are likely to forget. Ever.
Watch: