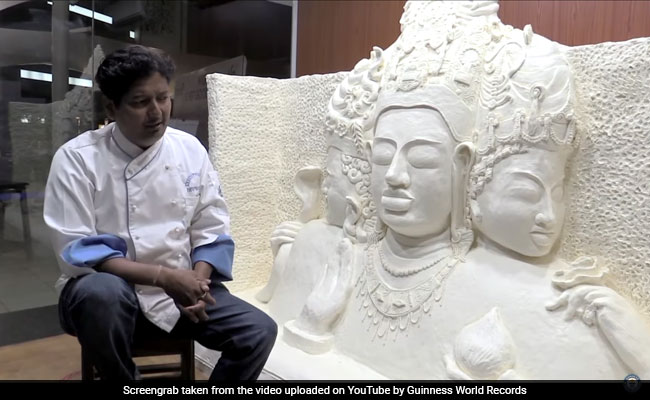 New Delhi:
Chef Devwrat Anand Jategaonkar created a new Guinness World Record by building the world's largest margarine sculpture in Mumbai this year. The massive sculpture is a replica of the famous Trimurti of Elephanta - a triad of the Hindu gods Brahma, Vishnu, and Shiva - and weighs a staggering 1506.800 kilogram. According to
Guinness World Records
, it is 8 feet and 2 inches long and 6 feet 1 inch tall.
"As a proud Indian, I want to create something which portrays Indian philosophy," Chef Devwrat can be heard saying in the video.
Built without any external or internal supporting structure, the margarine sculpture proved to be a tough task. According to his
website
, it took Chef Devwrat 10 days to complete the sculpture with extensive reworking at one point where it almost collapsed.
On its successful completion on February 24, it went on display at the Santacruz Airport in Mumbai for a month, where it became a popular tourist attraction.
iggest Margarine Sculpture of TRIMURTI , Made at Mum. Airport by chef devwrat .
1512 KG 336 gm.. Best of luck pic.twitter.com/KxDxX0bjb6

- Omkar Chavan (@OmkarCh81209831) March 6, 2017
Watch the full video below:
Let us know what you think of the sculpture using the comments section below.
Click
here for more trending stories