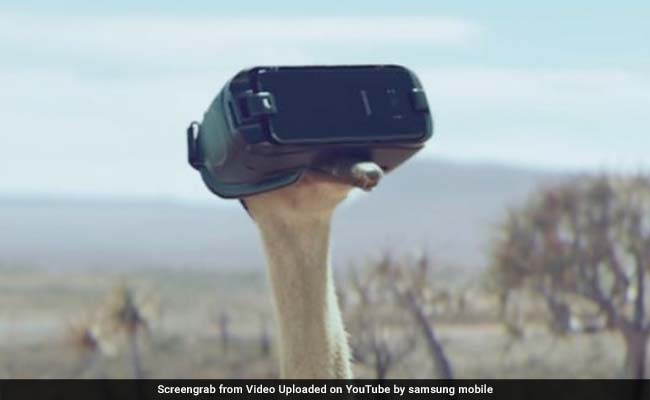 New Delhi:
It's not uncommon for companies to lure customers by playing on human emotions. And out of those thousands of campaign, some ads go beyond the marketing and stay with you for their storytelling. Samsung's new ad featuring an ambitious ostrich trying to fly is one such example. An ostrich accidentally puts on a VR (Virtual Reality) gear playing a flight simulator video which gives him a new aim - to fly. After several failed attempts, the flightless bird eventually takes off, becoming an object of envy to its friends. Edited to Elton John's classic song 'Rocket man', the campaign ends with the inspirational slogan 'Do what you can't'.
Watch the viral ad campaign here
The ad was showcased at the Unpacked event by Samsung where they unveiled their new flagship phones and virtual reality gear. The ad has nearly 800,000 views on YouTube since being shared on Wednesday and was praised on social media for its inspirational message.
The best most inspirational video created by Samsung! #DoWhatYouCanthttps://t.co/bsWXqub3RRpic.twitter.com/pa7eP9jIqI

— J3DV (@jose3dvg) March 30, 2017
My new spirit animal: that ostrich inside the new #GalaxyS8#GearVR advert. So much #feels. #DoWhatYouCant#Samsung#Random#motivationpic.twitter.com/7CkLHOPEXd

— Syefri Zulkefli (@chapree) March 30, 2017
The intersection of advertising, VR and ostriches is truly a thing of beauty #DoWhatYouCanthttps://t.co/LYF9Qq14S6

— Mike Carlson (@Mike_F_Carlson) March 30, 2017
The ad gave me the chills. Very clever....hope it drives demand. #dowhatyoucanthttps://t.co/n1eFKU2sTH

— Laura Barton (@lbarton99) March 30, 2017
Click for
more trending stories