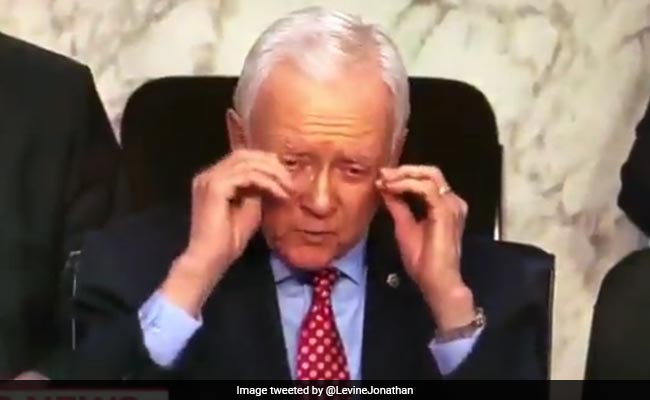 We've all done silly things on autopilot, but thankfully, ours haven't been caught on camera for millions to see and laugh at. An unthinking, automatic action has made a US senator the subject of many jokes. Utah Republican Orrin Hatch went viral on Twitter on Tuesday when he reached out for a pair of glasses he wasn't wearing - and, instead of realising his error, then proceeded to 'remove' them. According to
CNN
, this 'iconic moment' happened during a contentious Senate Judiciary Committee hearing with Homeland Security Secretary Kirstjen Nielsen.
It instantly went down in the Internet hall of fame:
WATCH: Sen. Orrin Hatch removes a pair of glasses he's not wearing pic.twitter.com/QXCCb4RHzn

- Jon Levine (@LevineJonathan) January 16, 2018
If the 83-year-old was fazed by his non-existent glasses, he certainly did not show it. He continued his speech as if nothing had happened.
In fact, in a very sporting move, he later followed it up with a hilarious tweet.
Oh you mean his invisible glasses from Warby Parker? They're new, you've probably never heard of them. pic.twitter.com/pygTRwbJl7

- Senator Hatch Office (@senorrinhatch) January 16, 2018
Of course, his office later confirmed that it was a joke and the senator had actually forgotten his glasses that morning.
Correct. The Senator forgot his glasses this morning.

- Senator Hatch Office (@senorrinhatch) January 16, 2018
Since being tweeted about 20 hours ago, Mr Hatch's video has been 'liked' over 1.7 lakh times and retweeted over 64,000 times. People can't stop laughing at it.
That just made me laugh loudly on a very quiet train!

- Sarah Hughes (@_Sarah_Hughes_) January 16, 2018
Yea, but he literally took them off. Didn't just reach for them & remember he didn't have them on! lol...

- Lisa Walsh (@lwalshmill) January 16, 2018
Even placed them on the table.

- WHBlakemore (@Woodyman502) January 16, 2018
@HellaLia I can't stop watching this

- Zach Goodwin (@zbgoodwin) January 17, 2018
Many have also shared they do the exact same thing on autopilot
I do this all the time when I switch from glasses to contacts. Or I'll try and adjust them using the bridge over my nose.

- (@OMGZOMBIES) January 16, 2018
Everyone who thinks this is strange has never worn glasses.

- Morgan Housel (@morganhousel) January 16, 2018
According to
The Hill
, Matt Whitlock, Orrin Hatch's communications director, chalked up the funny moment to 'muscle memory. "He forgot them at home, so it was simply muscle memory to reach to take them off before his questioning began," said Mr Whitlock.
Click for more
trending news