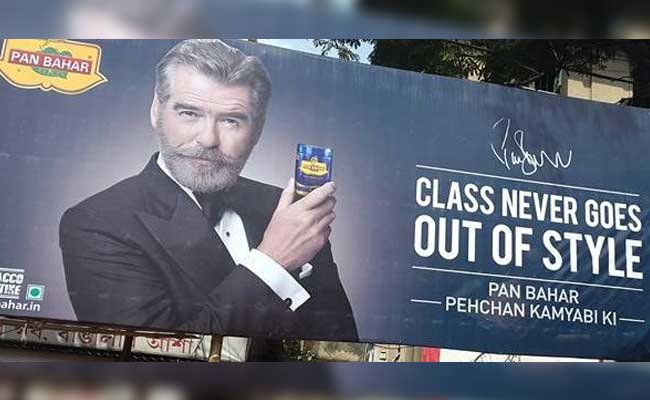 Everyone knows James Bond likes his martini "shaken, not stirred'. But umm... pan masala?
Former Bond star Pierce Brosnan, who played the suave, unflappable 007 in GoldenEye, Tomorrow Never Dies and The World Is Not Enough, flaunts a can of pan masala in ads that debuted on Friday in newspapers, billboards and channels.
Squinting Bond-style, the now-bearded 63-year-old might well be holding a Walther P99 gun for all the flourish - not the betel nut-based mouth freshener that leaves red stains after being chewed or spat out.
In the television ad, it is vintage Brosnan fighting baddies, flirting with women and pulling daring stunts, armed with his trusty... pan masala.
"Class never goes out of style," the Irish actor says at end of the ad.
The campaign created by DDB Mudra and shot in Texas, blends the pan masala brand with the epitome of sophistication. Some are calling it clever, others positively outrageous.
"Our choice of Pierce Brosnan as brand ambassador for Pan Bahar is in line with our campaign idea of '
Pehchan Kamyabi Ki
' (the mark of success). Thanks to his previous avatar as James Bond, Mr Brosnan is seen the world over as a symbol of sophistication, suavity and success. And Pan Bahar, as his choice, reflects that aspiration in the consumer base we were targeting," said Sambit Mohanty of DDB Mudra.
Diehard Bond fans are decidedly shaken.
Shocking, positively shocking, said Internet, to quote a famous Bond line.
it's official ! James Bond Loves Paan Masala https://t.co/D2vRWTEl0F "Pierce Brosnan"

Nachiketh (@RiotExpress) October 7, 2016
Irony: Pierce Brosnan saying class never goes out of style after being in this ad. https://t.co/xbxzO8adZB

Aditi Mallya (@Bacardidevi) October 7, 2016
Pierce Brosnan endorsing Pan Masala. Yeh kaise din aagaye hai! pic.twitter.com/vx6T1uqcdf

All India Bakchod (@AllIndiaBakchod) October 7, 2016
Pierce Brosnan.
Played James Bond.
Endorses Pan Bahar.
Licensed to kill.

Ramesh Srivats (@rameshsrivats) October 7, 2016
Pierce Brosnan has taken his dialogue too far:
"I always enjoyed learning a new tongue." pic.twitter.com/vW5KFcSUHj

Yashi Singh (@AyushiYashing) October 7, 2016
Butler: Mr. Bond, What would you like to have today?
Pierce Brosnan: giu miu shum tissshooos pueeess.

Mane (@Hoorki) October 7, 2016
"I believe you hold the famous 'License To Kill' in your possession, Mr. Bond?"

*takes out Pan Bahar from his pocket*



*130,000 people die*Akshar (@AksharPathak) October 7, 2016
Pierce Brosnan's new line

My name is bond,
*spits pan bahar
James Bond.#Piercebrosnan#panbahar

The confused sperm (@im_abubu) October 7, 2016
Wonder if Pierce Brosnan actually tried the paan masala, suavely dusting off his hands.

Mahesh Rao (@mraozing) October 7, 2016
Priyanka Chopra chews Rajnigandha & now Pierce Brosnan chews Pan Bahar. Now I know why I am not successful, will start chewing gutka today.

Trendulkar (@Trendulkar) October 7, 2016
Haters Will say Pierce Brosnan is Photoshoped @coolfunnytshirt@LostByWaves@Being_Humor@sagarcasm@Amit_smiling@Madan_Chiknapic.twitter.com/e2UM1uc8hn

lagharvagharamdavadi (@vlvareloaded) October 7, 2016
Pierce Brosnan has now the "License to Spit" !!#PanBahar#SwachhBharat ki aise ki taise !!! pic.twitter.com/zQ5l73pxgX

Puspak Patnaik (@puspakpatnaik) October 7, 2016