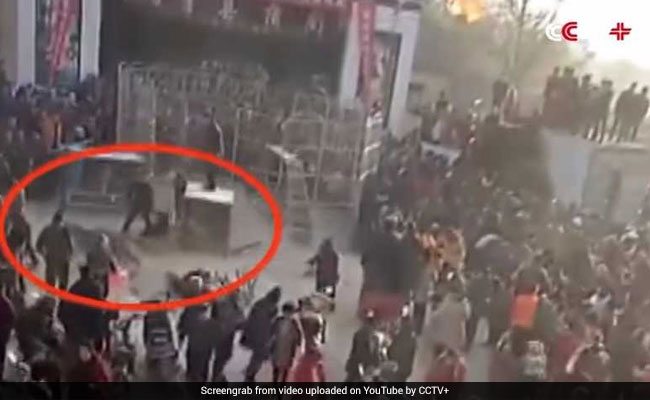 A circus at a village in China quickly turned into the stuff of nightmares when a tiger escaped from its cage. Shocking footage from the incident shows the tiger leaving its enclosure followed by chaos at the venue. The incident left two children hurt, however, they escaped with only minor injuries.
Various versions of the video shared on social media show how the scary episode took place in Linfen, China's Shanxi province on November 25. The clip shows the tiger escaping from its cage during an act and creating complete panic among the crowd watching the show.
Two children in the audience were scratched by the tiger and rushed to a hospital nearby. They, however, were discharged the next day.
The incident is currently under investigation.
Here's another video of the incident:
Horrifying footage: Circus tiger breaks through fence, injuring two kids https://t.co/47TxRvp7n1pic.twitter.com/Pgp48NnkBW

- CGTN (@CGTNOfficial) November 27, 2017
"It's too bad and I wish the children had not been injured. A tiger should neither be kept in a small cage nor be in a circus under any circumstance. Of course the tiger needed to escape to maintain his/her sanity. Caging a tiger -- that's horrifying," says one Twitter user about the video. "Maybe now people will realize that wild animals shouldn't be in a damn cage," says another.
The incident occurred only days after a
man tried to feed banknotes to tiger and lost his fingers
in the bargain.Click for more
trending news