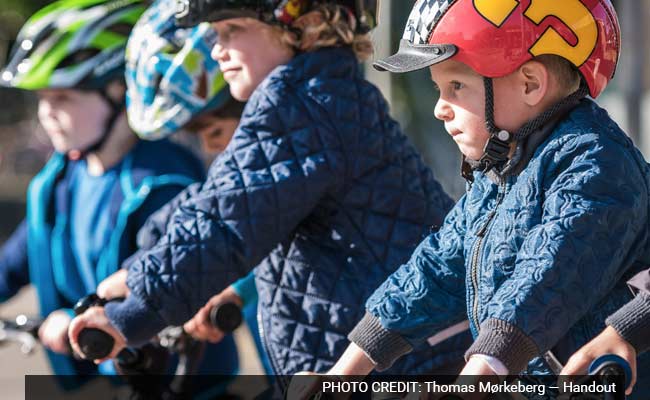 At the start of each school year principal Lars Christian Eriksen delivers the speech. He's been giving it to the parents of kindergartners at his Danish elementary school for 11 years.
The message is simple: Your 5-year-old should bike to school.
Cars aren't welcome for drop-offs in front of St. Hans School.
Eriksen said it's unsafe for the hundreds of students who arrive on foot or on their bikes. Police will ticket parents who dare to park in front of the school.
Eriksen's speech works. The school is typical of Odense, the third-largest city in Denmark, where four out of five schoolchildren walk, bike or skateboard to school, according to a government study. Some parents bike with their children.
"Biking has some effect on the child's character," Eriksen said. "They get a good result in school because they are biking to school. It's good for the student's brain."
Life in Odense compares starkly with the United States, where the rates at which children walk or bike to school have plummeted in recent years. Meanwhile childhood obesity has doubled among American children in the past 30 years.
Eriksen credits the popularity of biking to the country's culture and an infrastructure that's inviting to cyclists. The city has 217 miles of bike paths. Bike lanes are often separated by barriers from vehicle traffic, creating a safer, more welcoming place to ride for those of all ages. In places where cars and bikes mingle, drivers are cautious.
In 11 years at the school Eriksen could recall only two or three incidents in which a car struck a student on a bicycle. Injuries were minor.
Starting in third or fourth grade, students at St. Hans School ride bikes as a class to field trips. Buses are only brought in for extremely long trips.
The city's transportation department thinks it can make alternatives to cars and buses even more appealing to schoolchildren. It believes it's realistic for 90 percent of students to walk, bike or skateboard.
© 2016 The Washington Post
(This story has not been edited by NDTV staff and is auto-generated from a syndicated feed.)