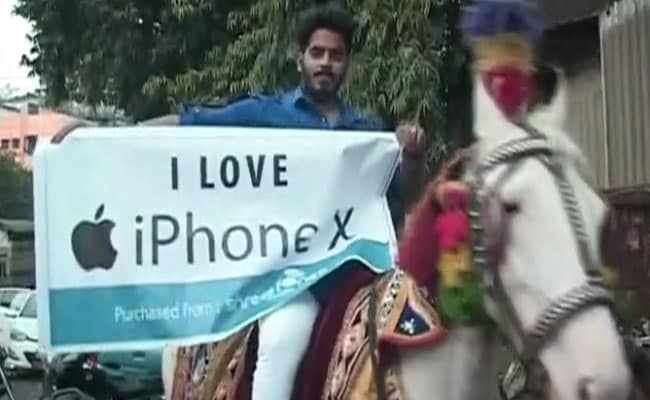 How excited are you for the new Apple iPhone X? We bet not as much as this guy.

Apple iPhone X hit the Indian stores yesterday and was greeted with endless queues of self-proclaimed Apple fans. As sellers prepared to open their doors, people lined up hours before to get their hands on the gadget. But among the sea of fans, one fan's love affair with the iPhone grabbed more eyeballs than the iPhone X itself.

Surrounded by dholwallahs, Mahesh Paliwal was seen galloping through Thane roads on a horseback on Thursday. It was not his wedding. The Thane resident was on his way to collect his pre-ordered iPhone. He proudly held a placard that said "I love iPhone X", a phone he had yet to lay his hands on.

Paliwal even received his new Apple iPhone X while sitting atop the horse. Fortunately for him, the store owner seemed happy to do so.
Here's a glimpse of his stunt:


The iPhone X, which marks the ten years of the Apple's iPhone, starts from Rs 84,000 for its 64 GB version and Rs 1,02,000 for the 256 GB version. Indian customers will be able to buy it in silver and silver grey colours. The iPhone X was available for pre-order from October 27 with Reliance Jio's buyback offer. However, the number of iPhones up for grabs were limited in number.Click for more
trending news