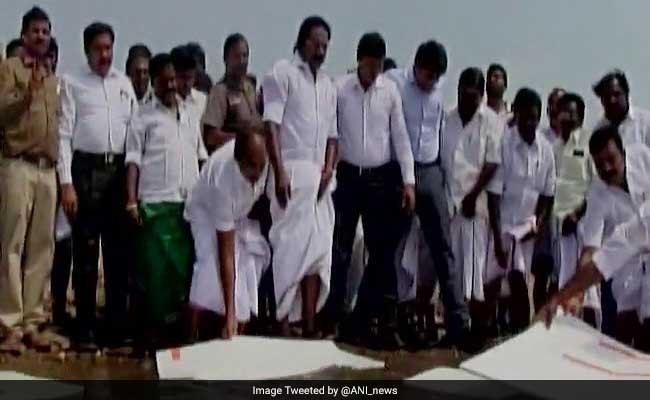 Highlights
The experiment was conducted at Tamil Nadu's Vaigai dam on Friday
It wasn't successful since strong winds swept the thermocol away
Minister Sellur K Raju said he got the idea from a 'source'
NEW DELHI:
In an attempt to conserve water in Tamil Nadu's Vaigai dam, officials of the Public Works Department came up a novel idea. It involved using thermocol sheets, worth Rs 10 lakhs, to cover a portion of the dam to curb water loss due to evaporation. Only, the execution of this experiment didn't quite go as planned. Moments after Tamil Nadu Minister for Cooperatives Sellur K Raju set the experiment in motion on Friday by floating the thermocol in the water, strong winds swept the sheets away. Now Twitter cannot help but share their thoughts on this failed attempt.
Tamil Nadu PWD floated Rs.10 lakh worth thermocol sheets in Vaigai reservoir to prevent loss of water due to evaporation. (April 21) pic.twitter.com/HdYJ3wm5Gw

- ANI (@ANI_news) April 22, 2017
According to reports, the wind wasn't the only problem. Spreading the sheets at different water levels also created a hindrance.
Mr Raju later held discussions with PWD officials on ways to tackle issues related to the wind and water flow since Vaigai dam flows through six water starved districts of south Tamil Nadu including Madurai, Sivaganga, Ramanathpuram, Theni and Dindigul districts.
The minister said the idea to cover the dam with thermocol came from a "source." And since the method is used abroad, they would also consult experts for such initiatives. He also said that the state government had allocated Rs 10 lakhs to try out different ideas to save water.
Even Madurai Collector K Veera Raghava Rao said they would adopt different methods to save water since 1.2 million cubic feet of water is lost due to evaporation. Mr Rao also said that they used thermocol as it is non-polluting. However, Rathnam, a scientist, says thermocol is non-biodegradable and can harm fish when it breaks into smaller pieces.
Here's how Twitter reacted to the experiment:
God bless Tamil Nadu politics!!! Thermocol to prevent evaporation!

- Anirban (@Anygma_) April 23, 2017
Dear god save us from #TamilNadu politicians or from all politicians.#THERMOCOL to prevent water evaporation. bucket 4 spilled oil in sea

- Bala G (@balaji07s) April 23, 2017
Instead of using thermocol sheets to cover the entire dam, how about using a huge tarpaulin sheet to cover the sun. Problem solved#Tamilnadu

- Sujith Kumar (@sujithkumar13) April 22, 2017
Laughed hard on all #SellurRaju#thermocol memes.. then i realized.. the joke is on us.. 10 lakhs for that joke he did.. #TnPolitics

- Silpaans (@rajesh25989) April 23, 2017
Waiting with thermocol near Puzhal lake for tn ministers. Save Chennai water from evaporating. #tnminister

- Anand Bindu (@anandprasad26) April 23, 2017
TN's Next project, putting sunglasses to the Sun! #thermocol

- Sri (@sridhar39) April 22, 2017
#Thermocol Brown cello tape = Evaporated common sense

- Rajashree Rajaram (@RajashreeRRamya) April 22, 2017
#sellurraju TN Thermocol Scientist...

- Rajaguru Rajendran (@rajaguruindia) April 22, 2017
(With PTI Inputs)