New Delhi:
Child actor Sunny Pawar, best known for his performance in the Oscar-nominated film
Lion
, just received the Rising Star Award, which he picked up at the 7th annual Asian Awards in the UK on Friday. From Sachin Tendulkar to Anupam Kher and Varun Dhawan - everyone stopped to take pictures with the adorable 8-year-old. The Internet fell even more in love with the child star after these pictures made their way online. Take a look:
1. Amy Jackson stopped to pose with Sunny, who was walking the red carpet with his father.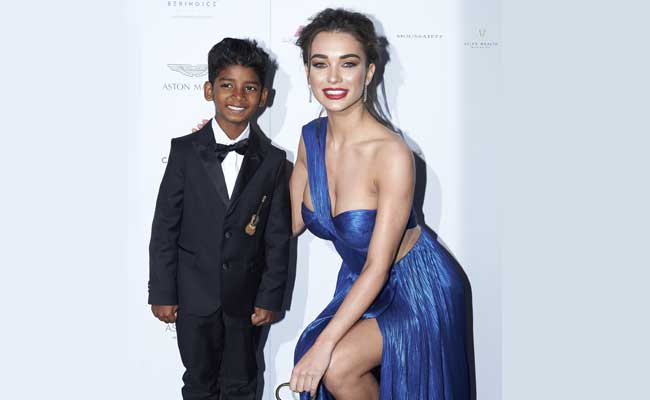 2. The God of cricket Sachin Tendulkar posted this picture, writing: "You've won our hearts, Sunny!"
Tess Joseph, the casting director for
Lion
, wrote on Instagram that Sachin said "I could never call Gavaskar Sunny, but this one I can call Sunny!"
3. Anupam Kher had the best time bonding with the pint-sized star.
4. Varun Dhawan thought he was the coolest.
5. London Mayor Sadiq Khan even took a moment to meet and take a picture with Sunny.
The Internet sighed a collective 'Aww!'
"This kid is going to win an Oscar someday," wrote one person. "He's too cool for school," commented another. "Melted my heart," added another.
Sunny shot to global fame with his role in the Hollywood film
Lion
where he worked alongside award-winning actors Dev Patel and Nicole Kidman. He was cast as young Saroo Brierley in the true-life drama.
"The Asian Awards prides itself on honouring people who have achieved the highest levels in their craft. We have been waiting for someone to come along whose debut fits that description in order to justify creating the Rising Star Award. Finally, we have found that achievement in Sunny Pawar," said Paul Sagoo, founder of The Asian Awards.
"It is a travesty that other award ceremonies overlooked his performance in the film Lion and we want to correct that," he added.
Sunny's got a lot to look forward to, his upcoming film
Love Sonia
is set to release in 2017. It stars Demi Moore and Freida Pinto.
(With inputs from PTI)
Click
here for more trending stories
.
Follow NDTV for latest election news and live coverage of assembly elections 2019 in Maharashtra and Haryana.
Subscribe to our YouTube channel, like us on Facebook or follow us on Twitter and Instagram for latest news and live news updates.