India is celebrating 69 years of being a Republic today. On January 26, 1950, the Constitution was adopted as the governing document of India. For Indians, the day is synonymous with the Republic Day parade that happens every year at India Gate in the capital. In a first, the Republic Day parade this year saw the presence of 10 heads of state from ASEAN as Chief Guests. Leaders from the Association of Southeast Asian Nations or ASEAN - Thailand, Vietnam, Indonesia, Malaysia, the Philippines, Singapore, Myanmar, Cambodia, Laos and Brunei - were hosted by India this year. The
parade
also included participation from the armed forces, tableaux of states celebrating the diversity of India, performances from students and the most-awaited, motorbike stunts by 113 women from the Border Security Force (BSF). The President, who presides over the parade,
addressed
the nation on the eve of Republic Day.
While many people would have made it to the India Gate lawns to witness the parade first hand, most of us must be enjoying it from the comfort of our homes, beaming with pride about the achievements of our country. Children also celebrate the day before hoisting the Indian flag at school. On this day especially, a sense of patriotic fervor takes over all citizens as everyone wishes one another a Happy Republic Day.
We've rounded up some Republic Day images, wishes messages, that you can share with your friends and family:
Be the change that you wish to see in the world. Happy Republic Day!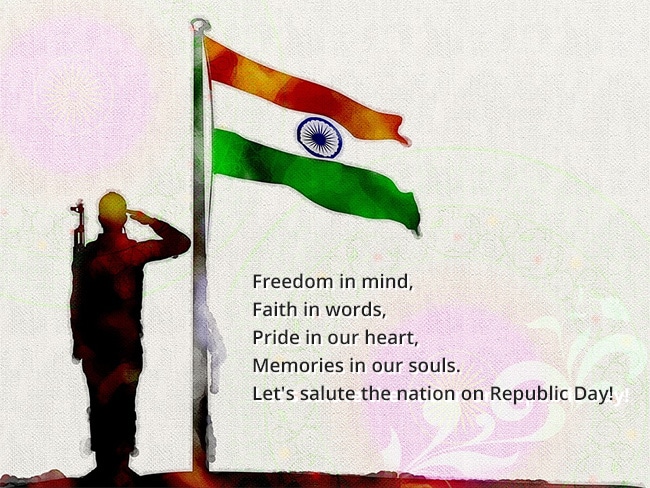 On this day, let's take an oath to build our nation to be the best in the world. Happy Republic Day!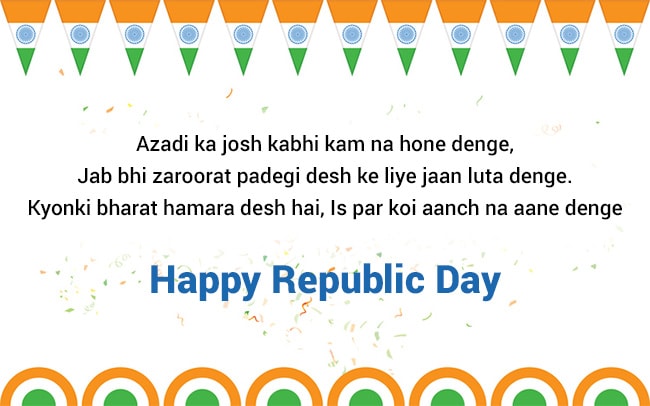 This is a country of colors and faith. Let this Republic Day remind us of the work done by our leaders for our safe and happy lives. Happy Republic Day!
Azadi ka josh kabhi kam na hone denge,
Jab bhi zaroorat padegi desh ke liye jaan luta denge.
Kyonki bharat hamara desh hai,
Is par koi aanch na aane denge
Happy Republic Day!
Our life is full of colors... I hope this 26th January will add more colors into your life. Happy Republic Day!
Freedom in mind,
Faith in words,
Pride in our heart,
Memories in our souls.
Let's salute the nation on Republic Day!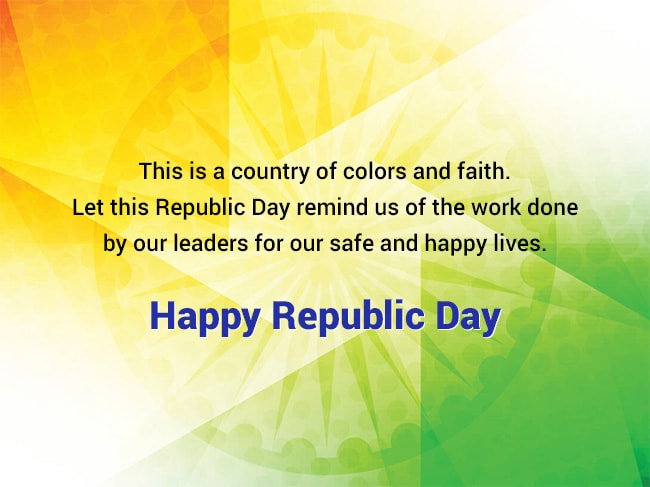 Republic day is a good time to examine who we are and how we got here. Hope peace reigns in every part of the world today and every day. Our life is full of colors and I hope this 26th January will add more colors in your life. Happy Republic Day
Indian
hone par kariye garv,
Mil kar manaye loktantra ka parv,
Desh ke dushmano ko milkar harao,
Har ghar par tiranga laharao!
Happy Republic Day!
How well do you know the history of your country? If you consider yourself an expert, take our
Republic Day quiz
. Answer 10 simple questions without the help of Google Click for more
trending news
Get Breaking news, live coverage, and Latest News from India and around the world on NDTV.com. Catch all the Live TV action on NDTV 24x7 and NDTV India. Like us on Facebook or follow us on Twitter and Instagram for latest news and live news updates.