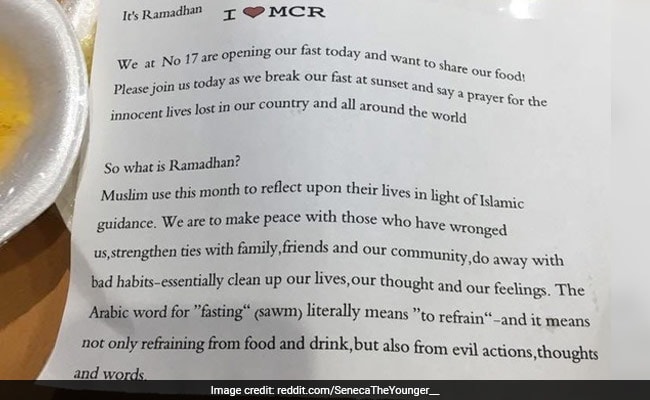 In the wake of the tragic attack at Manchester Arena after pop star Ariana Grande's concert on May 22 and the terror attack in London on June 3, people from UK are sharing heartwarming instances on social media in a message of unity to the world. A Redditor from Manchester has shared a
letter sent to them by their Muslim neighbours
. The letter, starting with the words "It's Ramadhan (sic)" and "I <3 MCR (short for Manchester)" was an invitation for Redditor 'SenecaTheYounger__' to join them when they open their fast. Since being shared yesterday, the letter has received a lot of love online.
"We at No 17 are opening our fast today and want to share our food! Please join us today as we break our fast at sunset and say a prayer for the innocent lives lost in our country and all around the world," says the letter. It goes on to explain the significance of Ramadan and why it is observed.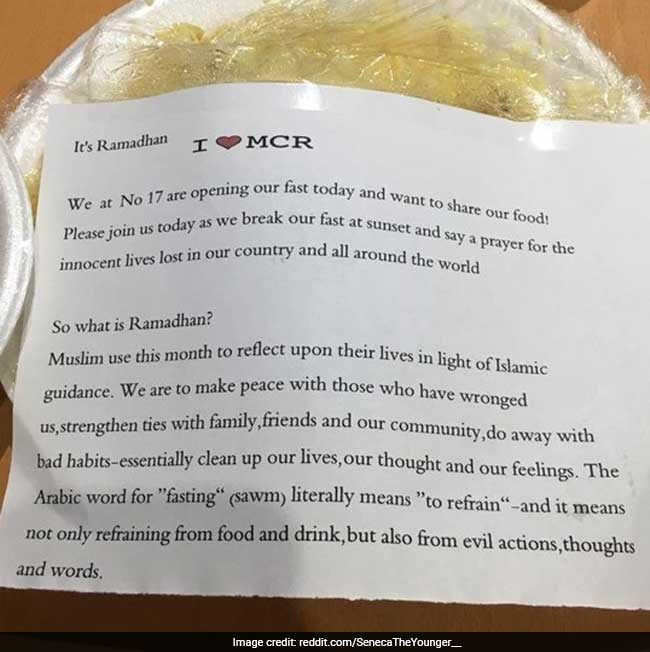 Since being posted, the letter has received over 41,000 upvotes and more than 4,000 comments. While many have praised the letter, others have shared their own experiences.
"This is so sweet! What's the food?" comments one Reddit user. "One love... Awesome," says another.
"I had some downstairs neighbors that were Muslim (they finally bought a house and we stay in touch). They would always celebrate Eid by handing out boxes of fine chocolates to the buildings. They'd also invite us to dinner if we were walking by and commented on how good it smelled. After the election, I got them some starbucks cards and chocolates to remind them that this was their home. The wife baked a whole tray of cookies for my roommates and I, the husband wrote a long note thanking us, and they delivered it to our door. I wish people would take the time to practice more understanding like this," a Redditor shares their experience.
About the food, 'SenecaTheYounger__' says: "It was awesome!! There was some onion bhajis and samosas. They also gave some sweet rice as well as this pudding type thing which was made from carrots, butter and milk. It was soooo good. Different from a lot of foods I've eaten. Just something you wouldn't try often unless someone has brought you that food or you've gone out to see if anywhere serves it!"
In another comment, the Redditor mentions sending over a fruit bowl with desserts to their neighbours soon.Click for more
trending news