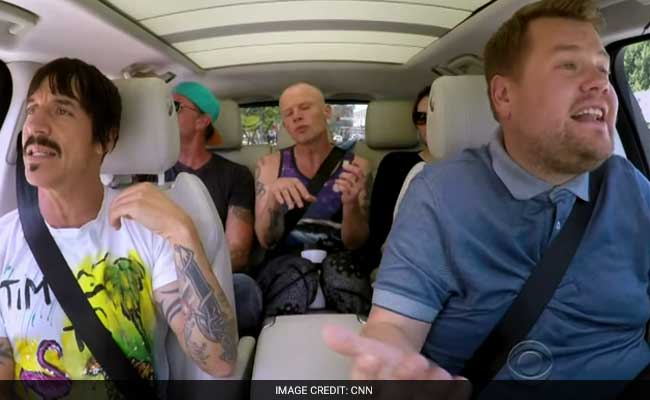 Highlights
The video of the 'Carpool Karaoke' segment has gone viral on YouTube
The band sang some of their best hits including Californication
Anthony Kiedis and Flea also sang a song they wrote when they were 15
Television host James Corden just carpooled with Red Hot Chili Peppers and it was a ride like nothing we've seen before.
A video of the 'Carpool Karaoke' segment has gone viral on YouTube with almost 4.7 million views since June 13 and shows Anthony Kiedis, Flea, Chad Smith and Josh Klinghoffer Roadtrippin' with the TV host around Los Angeles in a black Range Rover, singing along to some of their best hits including
Californication, Give It Away, Under The Bridge
and others.
For the uninitiated, 'Carpool Karaoke' is a popular segment from The Late Late Show with James Corden, which showcases famous artists and bands like Adele, Jennifer Lopez, One Direction, Justin Bieber and more belting out some of their best tracks with the host while driving around in a car.
This time, however, it wasn't just about karaoke. There was a wrestling match and shirtless singing as well. Anthony Kiedis and Flea also performed
Heemi Lheemey,
a song they wrote when they were 15-years-old "smoking large quantities of marijuana" in the Sierra Nevada mountain range. There's also a special anecdote about Cher babysitting Anthony Kiedis.
If you're a Red Hot Chili Peppers fan, you're going to love this video. Take a look: