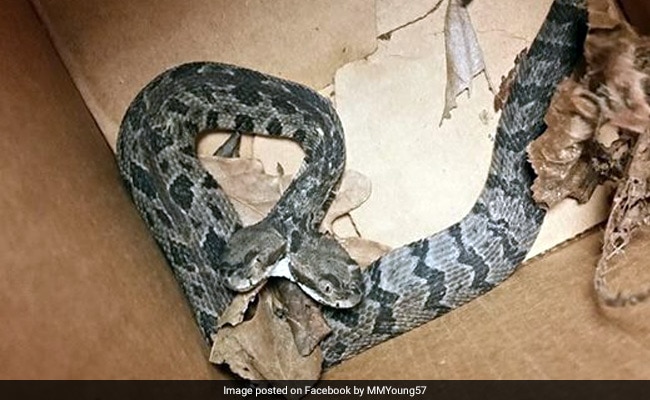 An extremely rare two-headed rattlesnake was found on September 6 near Forrest City in Arkansas, USA. The venomous snake, whose picture has been shared over 15,000 times on Facebook, has been freaking people out on social media. "The snake was captured by Quentin Brown and Rodney Kelso," explains Mark Young, who shared a picture of the snake, now named Deuce. "Deuce was later donated to the Arkansas Game and Fish Crowley's Ridge Nature Center in Jonesboro," said Mr Young in a statement to NDTV.
Here's the original picture of the two-headed snake shared by Mr Young on September 6:
According to
5 News Online
, the snake is about 11 inches long.
Mr Young later shared another
Facebook post
saying that the snake was absolutely real. While many commented on it saying how weird the snake looked and how scared they were of it, a few others called it 'beautiful'.
Cody Walker, the education program specialist at the Forrest L. Wood Crowley's Ridge Nature Center, says that 'it is technically two snakes fused together', according to
5 News Online
. Two-headed snakes have short life spans, especially in the wild, he said.
"Arkansas State University has the snake now and are trying to nurse it back to health. When they determine the snake is healthy enough it will be taken back the Nature Center for display," confirmed Mr Young to NDTV.
NDTV has reached out to Arkansas Game and Fish Commission for a comment.Click for more
trending news