At a time when stories about road rage, accidents and the callous behaviour of bystanders create concern among people, here's one that will warm your heart. A Twitter user has praised his cab driver for helping him transport an injured couple to hospital. In a series on tweets to cab company Ola, Rohit Bairagi has appreciated the driver, Inderpal Singh, for his help and support during the incident.
In his tweets posted on November 6, Ms Bairagi explains that he was travelling in a cab towards Yerwada, Pune, when he noticed a couple who had met with an accident. He asked the driver, Mr Singh for his assistance and together they took the couple to a hospital.
Without any words or argument he immediately ready for move them towards hospital

- Rohit Bairagi (@rohitbairagi22) November 6, 2017
It was nice feeling for us and we heartly appreciate to this driver for his help and support.

- Rohit Bairagi (@rohitbairagi22) November 6, 2017
We are looking such a best services in future as well.
Kindly give him best compliment from us.

- Rohit Bairagi (@rohitbairagi22) November 6, 2017
"There are few people like him ready to help while running their business," Ms Bairagi says in one of his tweets.
He also shared details about his ride and the driver.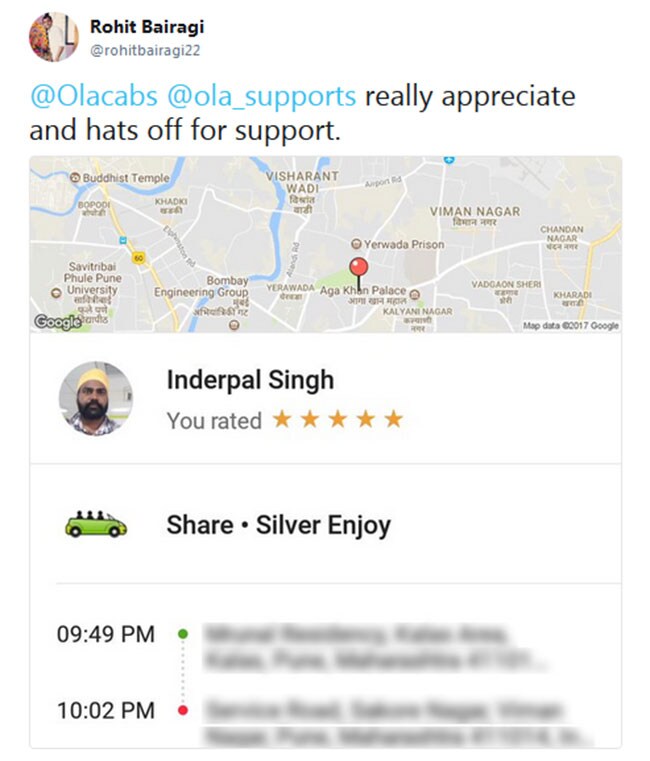 "I feel privileged to be able to help those who need assistance... The passengers were also very accommodating and sympathetic towards the injured and we mutually agreed to help the victims," Mr Singh said according to a statement by Ola.
Click for more
trending news