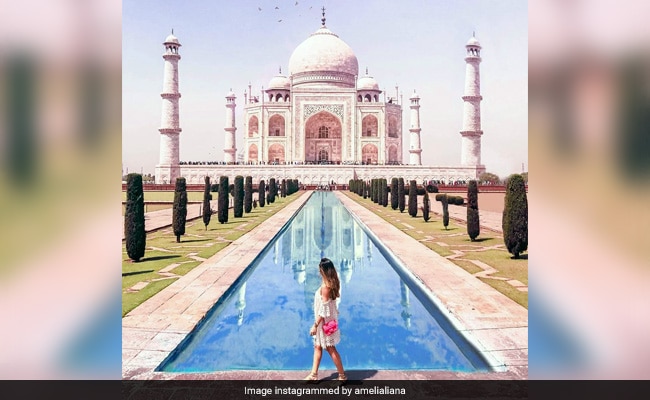 Travel, fashion and beauty blogger Amelia Liana has been accused of heavily Photoshopping her pictures after her followers noticed something amiss in a now-deleted Instagram post. An image of Amelia supposedly taken at the top of the Rockerfeller Center in Manhattan was trolled after people noticed that the Freedom Tower was nowhere to be seen in the New York skyline. The photo was posted on May 25 this year, according to the
Daily Mail
, but the tower was completed in 2013. People also noticed something wrong with the reflection in the photo, adding more fuel to the Photoshop accusations:
How did the window reflect the back of Amelia Liana's arm exactly? Some dodgy af photoshopping going on there pic.twitter.com/OqXS01dE7W

- Emma-Louise Dean (@DinosBeauty) July 15, 2017
An analysis by
The Times
confirmed that a cutout of the blogger was superimposed on an old image.
Amelia's followers soon began to notice discrepancies in other photos as well. A picture of her at the Taj Mahal in Agra was flooded with comments after her followers noticed several things amiss or doctored. "When the current scaffolding around the right tower is not there," wrote one commenter. Another noticed that the crowd of tourists, a regular feature of the Taj Mahal, seemed to be missing in Amelia's photo. A few also pointed out that her reflection stopped abruptly at the side of the water and that the Taj Mahal's reflection in the water seemed compressed to fit in the pool.
Amelia Liana currently has over 4 lakh followers on Instagram. Following the accusations, she took to her blog to address the issue in a post titled '
My Image Principles
'. "All my imagery is actually shot at the time in the location I specify," she wrote, adding that she never uses 'editing techniques' to alter her body or face.
This was also met with charged reactions on social media:
2. All my imagery is actually shot at the time in the location I specify. "
Then how come you had a four year old image of NY???

- Chelsea Lopez (@justfake) July 15, 2017
I get what you are trying to explain. But by altering some images to the extent which u have, you are promoting a lifestyle which is fiction

- Hello Denise (@MelbournianMama) July 15, 2017
this really didn't address anything or answer most people's questions though...you're not just lightly retouching images are you

- martha (@lilfaerys) July 16, 2017
Click for more
trending news