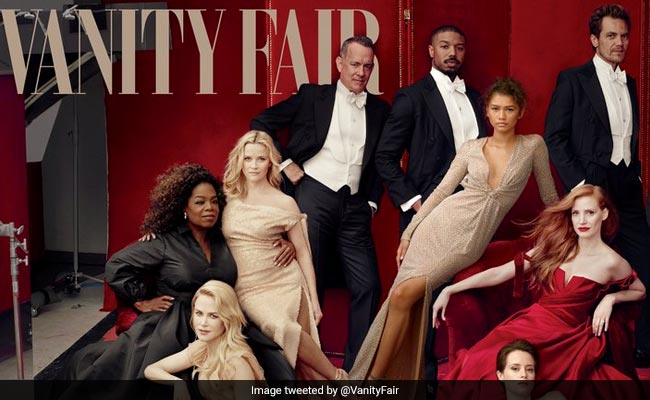 Vanity Fair's 24th annual Hollywood issue included a star-studded cover featuring the who's who of the film industry. This year, however, two celebrities in the spread appeared with extra limbs. The magazine has given Oprah Winfrey three hands and Reese Witherspoon three legs in its latest issue - something that Twitter was quick to notice and point out. The celebrities posed for renowned photographer Annie Leibovitz, according to the
BBC
. See the Photoshop fails below:
In one image, Oprah Winfrey, 63, appears with a hand on her hip, a hand on her lap, and then a third hand wrapped around Reese's waist:
Now that Oprah has been exposed as an alien with three hands, her prospective presidential candidacy takes on more sinister overtones: pic.twitter.com/ZzP3GDza7x

- (((Yair Rosenberg))) (@Yair_Rosenberg) January 25, 2018
Meanwhile,
Big Little Lies
star Reese Witherspoon, in a different photograph, appears to have three legs:
Reese Witherspoon has three legs. pic.twitter.com/q9N6lkKx28

- Mahwash Ajaz (@mahwashajaz_) January 26, 2018
The bad Photoshop job led to a lot of jokes on Twitter, with many asking whether they are aliens and others joking about loving your bodies, no matter what.
oprah has three hands & reese has three legs, and we are here for accepting them for who they are!! 2018 is all about LOVING OUR BODIES!! pic.twitter.com/TX7L2JIDno

- tyler oakley (@tyleroakley) January 25, 2018
If you're struggling at work today, just remember that you aren't the person who let photos of Reese Witherspoon with three legs AND Oprah with three hands go to print.

- Christine Jackson (@Cjax1694) January 25, 2018
Fortunately, both the stars joined in on the joke:
Well...I guess everybody knows now...I have 3 legs. I hope you can still accept me for who I am. ( and I will never apologize for snuggling @Oprah .. if you get the opportunity, I highly recommend it;) https://t.co/6GyrfWxNSY

- Reese Witherspoon (@RWitherspoon) January 25, 2018
I accept your 3d leg. As I know you accept my 3d hand

- Oprah Winfrey (@Oprah) January 25, 2018
Vanity Fair, meanwhile, has admitted it erred when it came to Oprah's three hands. In a light-hearted tweet posted on January 25, the magazine said it is correcting the error online.
As for @Oprah, how can we expect her to juggle it all with just two hands?
(We are correcting this error online) https://t.co/QNd74YtSTz

- VANITY FAIR (@VanityFair) January 25, 2018
As for Reese Witherspoon - Vanity Fair has claimed it is just the lining of her dress. This is an explanation that not many are buying.
While we would have loved the exclusive on @RWitherspoon's three legs, unfortunately it's just the lining of her dress. https://t.co/HJjvbc037S

- VANITY FAIR (@VanityFair) January 25, 2018
NO, it's NOT the lining of her dress. IT IS CLEARLY HER LEG. You can see her knee. Nice try though.
JUST ADMIT YOU PHOTOSHOP EVERYTHING and aren't good at it and move on.

- olbs (@iblok1) January 27, 2018
The errors came to light only a few hours after the magazine announced that it had digitally erased images of James Franco from the photoshoot following allegations of sexual misconduct.
Click for more
trending news