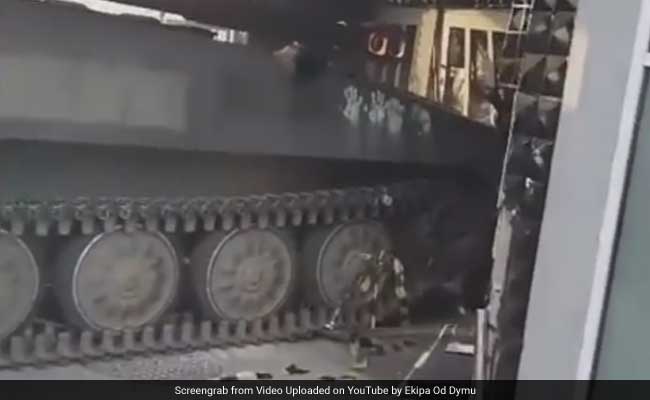 Warsaw, Poland:
A decommissioned Soviet-era tank crashed the party this weekend when it slammed into a disco in Poland during a promotional bid gone awry, the club owner said today.
No one was hurt in the incident, which happened Saturday afternoon before customers began arriving at the "Mono Club" venue in Szubin, northern Poland.
"The brakes and steering failed as I was moving the vehicle in front of the club," Rafal Pasionek, owner of the tank and club, told AFP.
Pasionek and onlookers are heard swearing profusely during the incident, which was captured on video by an employee at the disco.
"I was incredibly lucky that the vehicle went right between the posts flanking the entrance - otherwise there would have been a lot of damage," Pasionek added.
The clip was broadcast nation-wide by Polish media on Monday, after having gone viral on the Internet.
Firemen who arrived on the scene helped to move the massive Soviet-made hardware, complete with tracks and a barrel, onto a flat-bed lorry.
"This is a career-first! I've never seen anything like a military vehicle in a disco," fire brigade spokesman Pawel Prszybylski told AFP.